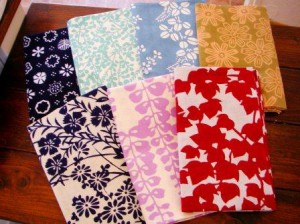 Tenugui is a piece of dyed cotton cloth, about the size of 35 cm by 90 cm.  Tenugui means 'the thing to wipe hand', and the main use is as a hand towel, but it can be used for anything, such as wrapping, and interior accessories.
Tenugui has been used for more than 1000 years in Japan.  In the Edo period, the variety of designs increased.  Many people designed their own Tenugui, to show their taste.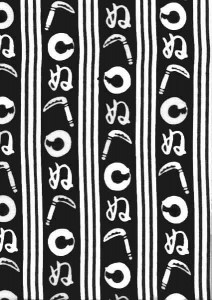 In the left picture is a popular traditional pattern, called Kamawanu.  There was an huge hit of this design in the late Edo period, after a leading Kabuki acter Ichikawa Danjuro Ⅶ (市川団十郎) wore it on his stage.
The motifs are a sickle (鎌, kama), a circle (輪, wa), and a Hiragana (Japanese letter), Nu (ぬ).  Kamawanu means 'I don't care' or 'never mind' in Japanese.  The motifs don't have much meanings on their own, but they act as a word game.
Tenugui shops are in shopping centers and major stations.  There are specialized stores, too.
In Daikanyama is a specialized store, whose name is Kamawanu.  You will find Tenugui of more than 200 traditional and modern designs here.  Take time choosing a Tenugui of your taste :) 
Kamawanu (かまわぬ)
Location: Daikanyama
Open Hours: 11:00-19:00
Website: http://www.kamawanu.co.jp/shop/daikanyama.html (Jap)
  –
Higherground Co.,Ltd.
2-8-3 Minami-Aoyama, Minato-ku, Tokyo, Japan
TEL:03-6459-2230
MAIL:info@higherground.co.jp
HP:http://www.higherground.co.jp/
TOP PAGE: http://livingtokyo.net/
関連する投稿
トラックバック:
0
このエントリのトラックバック URL

http://livingtokyo.net/life-in-tokyo/2011-03-10/tenugui-japanese-handkerchief/trackback/

Listed below are links to weblogs that reference