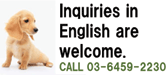 Higherground, an estate agent in Tokyo, has hundreds of properties especially apartments for rent in Tokyo. We offer you low cost agent commissions.
If you find anything suitable for you in other web sites, please feel free to call us for our agent commisions.
As your agent, we negotiate rent prices too!
Higherground Co.,Ltd.
third floor, 2-8-3 Minami-Aoyama Minato-ku Tokyo
TEL 03-6459-2230 FAX 03-6459-2231
info@higherground.co.jp
http://www.higherground.co.jp
関連する投稿

トラックバック:
0
このエントリのトラックバック URL

http://livingtokyo.net/profile/trackback/

Listed below are links to weblogs that reference