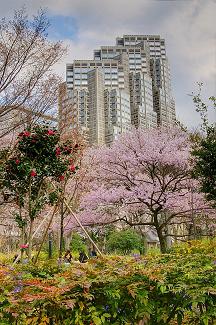 Shinjuku Chuo (Central) Park (??医?筝?ぎ?????) is a small functional park located in western Shinjuku, one of 23 wards in the Tokyo metropolis area.
Surrounded by some of Tokyo's tallest buildings including its tallest, the Tokyo Metropolitan Government Buildings 1 and 2. The Century Hyatt, the Park Hyatt, and other hotels and office buildings surround Shinjuku Central Park. Somewhat of an ultra modern mix of concrete, glass steel and landscaping with some very impressive architecture. Park Hyatt Tokyo is one of the worlds most expensive and luxurious hotels and featured in the hit movie ???Lost in Translation??? staring Bill Murray.
A visit to the Shinjuku Skyscraper District at night during the Christmas season is quite an experience with many of the buildings and surrounding area being lit up with millions of Christmas lights. It attracts thousands to its nightly displays.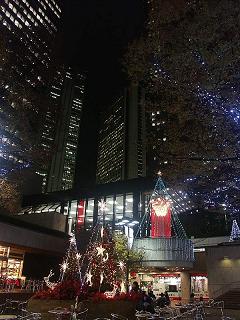 The layout of Shinjuku Central Park is very simple and accessible for the many office workers in the area and is an ideal retreat amidst all the chaos for them to spend their lunchtime, which you may find it socially interesting. If you are staying in any of the hotels nearby, the park with its greenery will simply provide you a scope for a refreshing evening walk or even a run.
In the area, there are several activities taking place. The Tokyo citizens go to the park, not to relax, but to indulge in hobbies. Everyone comes here to play, in whatsoever way they prefer to. And they do it with intense concentration, which at the very least, must be admired.
Admittedly this is not the biggest park in the Shinjuku area, but it is the most central – right next to the enormous city government buildings, reaching for the sky as if to penetrate it. There is, of course, a lot of green in the park, but its main attraction seems to be the open space in front of the famed waterfall, even though this is right by one of the busy streets. Cherry blossoms bloom all over the place in Japan when spring comes, and they too can be enjoyed here in Shinjuku Chuo.

However, this place usually refers to just the great entertainment, trade and shopping area around Shinjuku Station. On Sundays, a flea market can be found held at the entrance with a variety of fares and the occasional charity fare.
—
Higherground Co.,Ltd.
2-8-3 Minami-Aoyama, Minato-ku, Tokyo, Japan
TEL:03-6459-2230
HP:http://www.higherground.co.jp/
TOP PAGE:?https://livingtokyo.net/