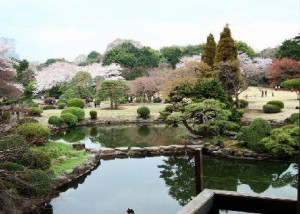 ???Urban Oasis???
Have you been to any Tokyo gardens?
Even within the heart of Tokyo, many Japanese gardens are maintained for public admission, in such places as temples, hotels,or the ex-mansions of feudal lords.
Here is the samples of the Japanese gardens of Tokyo.
ex)??? Happoen (????喝??); Previously the mansion of a daimyo lord. The beautiful garden is now used for wedding ceremonies.? Shirokanedai, Minato-ku.
??? KyuShibarikyu-onshiteien (??ц????√??????綺???); this garden of a daimyo lord from the early Edo-period.?? Hamamatsucho, Minato-ku.
??? Kiyosumiteien (羝?羮?綺???); A garden circuit, situated around a central pond and pine trees.? Kiyosumi, Koto-ku.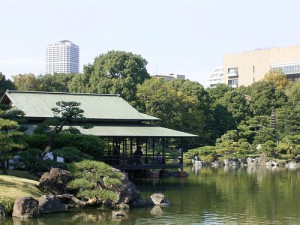 These gardens include the traditional Japanese-style gardens such as ???pond circuit???gardens designed for viewing while strolling around a central pond, as well as Zen-influenced karesansui (???臼羂?, ???dry???) gardens that use sand and rock to express mountain and water. These enable you to experience a refined beauty that is unique to Japan.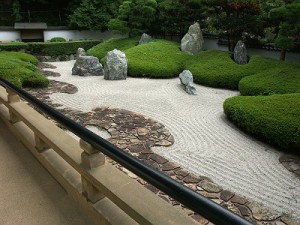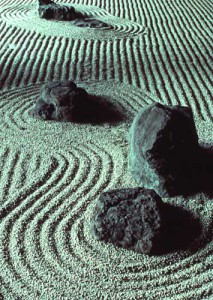 ???Shinjuku Gyoen???
Shinjuku Gyoen (??医?緇∴??)?was constructed on the site of a private mansion belonging to Lord Naito (?????ゆ??), a daimyo of the Edo era.
It's completed in 1906,originally created as a garden for the Imperial Palace.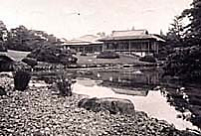 Shinjuku Gyoen in 1934.
It was re-designed as a national garden after World War? and opened to the public.
It is one of the features of Shinjuku Gyoen that there are the first examples planed in Japan, such as tulip trees, himalayan cedars and bald cypresses. In spring,cherry blossoms are full bloom and in summer a lot of soft greens,
Shinjuku Gyoen, which is 58.3ha in size and a circumference of 3.5km, is an ideal place to get close to nature and experience the changing seasons. And also,it is the national park,harmonizing both European and Japanese styles.
It has 3 different garden-styles, French Formal Garden, English Landscape Garden and Japanese Traditional Garden.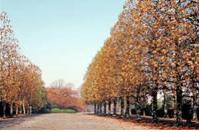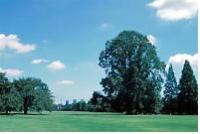 It's easy access from the metropolitan area, you can be absorbed in the traditional Japanese Garden.
(Access)
???5-minute walk from Shinjuku-gyoenmae Subway St. on Marunouchi Line
???5-minute walk from Shinjuku 3-chome Subway St. on Shinjuku Line
and more ways.
It's nearby the office building areas, so that you can see some workers(??泣?????若?????, salarymen) rest or women chatting on the benches.
And also, there are a variety of flowers and plans that enable people to relax.
If you want to get away from the noise and bustle of a large city, it is well to visit Shinjuku Gyoen.
???Shinjuku Gyoen Official Web Site???
http://www.env.go.jp/garden/shinjukugyoen/english/index.html
—
Higherground Co.,Ltd.
2-8-3 Minami-Aoyama, Minato-ku, Tokyo, Japan
TEL:03-6459-2230
HP:http://www.higherground.co.jp/
TOP PAGE:?https://livingtokyo.net/