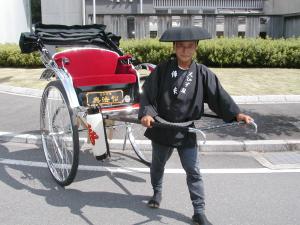 If you have been to Asakusa, Tokyo, you may have seen something like the photo above.
This is a Jinrikisha (篋阪??荵?), or sometimes called Rickshaw.? Jinrikisha literally means 'human power vehicle'. The runner draw a two-wheeled cart (this cart is the Jinrikisha), which seats 1 or 2 persons.
Jinrikisha was mainly used for transportation until the early 20th century, but recently, it is solely used for sightseeing.??It is often seen in cities which still have the typical Japanese streetscape, such as Kyoto, Kamakura, and Asakusa.
The runner, called Shafu (荵?紊?, literally 'vehicle man'), will often be your tour guide, as well as your driver.? While running through the historical streets, you will also obtain knowledge about the area.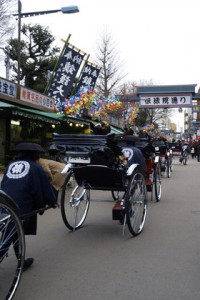 Jinrikisha in Asakusa are usually waiting for customers around the station or Sensoji Temple (羌????絲?).? It will cost about 10,000 yen for 2 people to go sightseeing around Asakusa.
Hop on the Jinrikisha, and feel the mood of the 19th century!
—
Higherground Co.,Ltd.
2-8-3 Minami-Aoyama, Minato-ku, Tokyo, Japan
TEL:03-6459-2230
HP:http://www.higherground.co.jp/
TOP PAGE:?https://livingtokyo.net/