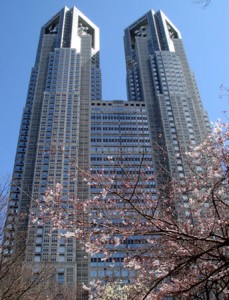 The Metropolitan Government Building is the tallest building?among the many landscrapers of Shinjuku, 243 meters tall.? It was the tallest building in Japan when it was built in 1990, until the Yokohama Landmark Tower broke the record in 1993.? Designed by Kenzo Tange (筝剛????ヤ??), one of the most famous Japanese architect, who designed the National Stadium.
The construction of the building was decided during the bubble boom.? Therefore, this building was sometimes called 'Tower of Bubble', in a parody of Tower of Babel.? Despite this bad name, the building is today visited by many tourists.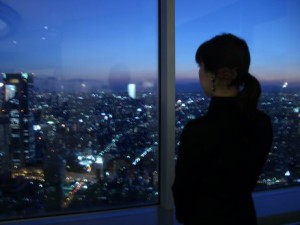 There are 2 observation decks in the building, the North deck and the South deck.? Except the few days around New Year's Day, either of the deck?are open from 9:30 to 23:00.? You can get a panoramic view of Tokyo, and there are cafes and souvenir shops too.
In the building is Tokyo Tourist Information Center, where you can obtain information and documents for sightseeing in Tokyo.? For all reasons, the Metropolitan Building is a great place to visit if you're new in Tokyo 🙂
—
Higherground Co.,Ltd.
2-8-3 Minami-Aoyama, Minato-ku, Tokyo, Japan
TEL:03-6459-2230
HP:http://www.higherground.co.jp/
TOP PAGE:?https://livingtokyo.net/