By Richenda Elledge
If you are looking for a modern omiyage (souvenir in Japanese) to give to friends back home, the list can be exhausting. Usually what comes to mind are Japan-made knives, plastic key chains and magnets in sushi or ramen motif, chopsticks, daruma dolls, yukatas, and Maneki Neko (beckoning cat) figurines. There are some favorites of locals that make great souvenirs as well. Here is a quirky selection of items used by locals that would make cool omiyage: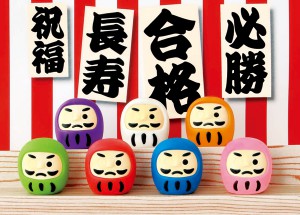 Iwako Puzzle Erasers
You may have come across interesting looking erasers at shops like Tokyu Hands, or even passed out as rewards at your neighborhood children's dentist. These are usually puzzle-type erasers, where you can take sections apart and put them back together again. Much loved by local kids and adults for decades, these low-cost items (usually JPY60 for one eraser or JPY378 for a small pack) make an original and quirky gift without breaking the bank.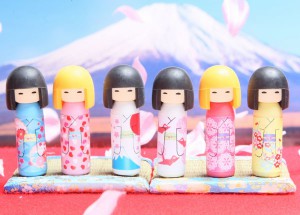 A little history: IWAKO was founded in 1968 (formerly known as Iwasawa Kogyo). Asking why erasers always have to be rectangular, IWAKO started making erasers with different shapes. While this manufacturer makes a variety of plastic products, they are perhaps best known for their high-quality puzzle erasers. IWAKO erasers are made entirely in Japan and they are tested to be safe, following international toy safety guidelines. Interestingly, every year, two hundred groups of children visit their factory in Saitama Prefecture to see their production line as well as to input ideas for new creations.
For more info and extensive list of their products: http://www.iwako.com/IWAKO/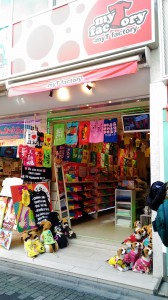 Customised T-shirts

My T Factory makes original and customised T-shirts on the spot. They have a few branches in Tokyo, in places with high concentrations of visitors; such as Ueno, Harajuku and Shibuya. There are tons of designs to choose, which they will then print onto a t-shirt then and there, along with personalised names or message. Designs vary and Japan motifs are just one of many different kinds.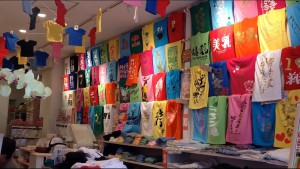 A great choice (and affordable since the starting price is JPY2480 for a printed end product), not only for souvenirs but as presents for any occasion. Offering a wide selection of sizes, including children sizes, they also do personalised dog clothing. For more details and address: http://www.myt-factory.com/index_en.html

FriXion Erasable Pens
Generally speaking, Japanese-designed stationery are like no other, and the range of stationery choices in paper, pens, stickers and notebooks found in Japan are unrivalled. Leading stationery maker, Pilot Corporation makes a series of pens, felt-tips, highlighters and coloring pencils under the FriXion name and they are truly unique. These pens (starting from JPY100 for a basic model) have become a staple in many people's pen cases. They are highly effective erasable pens with heat-sensitive ink. The way it works is that the heat generated by the friction of rubbing the special eraser (installed at the end of each pen) causes the ink to become clear. FriXion ink ???erases??? due to Pilot???s exclusive thermo-sensitive ink technology. When rubbing, the ink heats up to over 65属C and becomes invisible. FriXion pens have a special erasing tip which allows the paper to be heated quickly without damaging it. An interesting tip ideal for youngsters: one can write a secret message on a piece of paper, by first writing the secret message then erasing it. Reveal the message by placing the paper in the freezer for a few minutes. The ink will reappear at temperatures under -12属C. Neat! Probably best not to use on legal or official documents.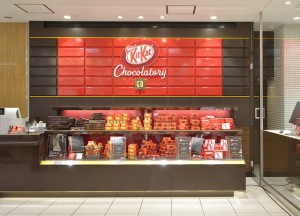 Kit Kat with a Japanese Kick
Nestle launched its first boutique in Japan for one of its major product lines, Kit Kat. The KitKat "Chocolatory" store located within the Seibu department store in Tokyo's Ikebukuro district, stocks exclusive varieties of the chocolate bar created in collaboration with Japanese chocolatier, Takagi.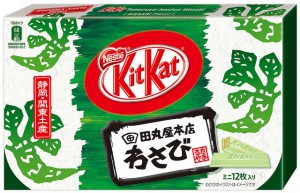 According to Nestle, 650 KitKat fingers are consumed every second around the world and, in Japan, the brand has been the country???s favourite chocolate since 2012. Its success has been fuelled by the launch of hundreds of unusual and innovative special edition flavours to meet Japanese consumers??? experimental tastes and sense of style. KitKat fans in Japan have been able to choose from varieties including Purple Potato, Cinnamon Cookie, European Cheese, Bean Cake and Wasabi – unwrapping sticks of pale green, delicate pink and lilac chocolate that look and taste very different from those anywhere else in the world. Flavors found only in Japan: Roasted Tea, Strawberry Cheesecake, Rum Raisin, Apple, Green Tea, Mandarin and Lemon, Azuki Red Bean Toast, and Wasabi.
Other listings of more traditional omiyage covered by the media:
https://www.pinterest.com/ristini/souvenirs-from-japan/
http://www.timeout.jp/en/tokyo/feature/6328/Essential-Tokyo-souvenirs
http://muza-chan.net/japan/index.php/blog/must-have-souvenirs-travel-tips