ホーム > アーカイブ > 2011-02-01
2011-02-01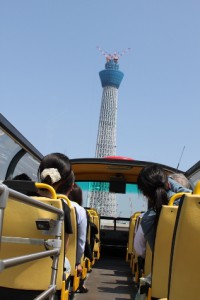 Sky Bus Tokyo is a tour around Tokyo on a double-deck bus.
There are 6 courses, which are:
・Imperial Palace - Ginza - Marunouchi Course
・Tokyo Tower - Rainbow Bridge Course
・Tokyo Skytree- Asakusa Course
・Odaiba Night Course (night tour)
・Xmas Illumination Course (night tour)
All tours start from Mitsubishi Building in Marunouchi.  Riding time is approximateli 1 hour for all tours, but in Odaiba Night Course, there will be an 1 hour stop at Odaiba.
Guidance in foreign language (English, Chinese, Korean) is available only in Imperial Palace - Ginza - Marunouchi Course, but in other courses, simply viewing the sights is very exciting.
The courses are renewed once in a while.  Tokyo Skytree - Asakusa Course, showing Tokyo's new landmark Tokyo Skytree, is the newest course which started in August 2010.  In autumn, there was a course around Meijijingu-gaien, viewing the autumn leaves.  If you find some courses above interesting, don't wait, make a reservation!
Sky Bus Tokyo
Website: http://skybus.jp/explains/index/00033 (Eng)
Reservations can be made on phone, and at the reservation deck in Mitsubishi Building.
–
Higherground Co.,Ltd.
2-8-3 Minami-Aoyama, Minato-ku, Tokyo, Japan
TEL:03-6459-2230
MAIL:info@higherground.co.jp
HP:http://www.higherground.co.jp/
TOP PAGE: http://livingtokyo.net/

ホーム > アーカイブ > 2011-02-01
category

Tag Cloud

page

-
profile


Higherground, an estate agent in Tokyo, has hundreds of properties especially apartments for rent in Tokyo. We offer you low cost agent commissions.

If you find anything suitable for you in other web sites, please feel free to call us for our agent commisions.
As your agent, we negotiate rent prices too!

Higherground Co.,Ltd.
third floor, 2-8-3 Minami-Aoyama Minato-ku Tokyo
TEL 03-6459-2230 FAX 03-6459-2231
info@higherground.co.jp
http://www.higherground.co.jp

search

entry

calendar

archives

外部PR