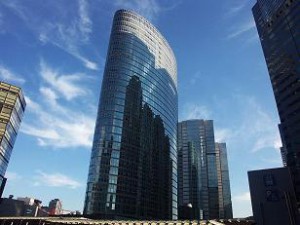 Shinagawa Inter City (???綏???ゃ?潟?帥?若?激?????), which opened in December 1998 on the east side of Shinagawa Station, is Japan's largest super high-rise complex. The complex consists of various shops, restaurants and offices, and also plays host to an events hall, a gallery, a clinic, a bank and a post office.
Shinagawa is fast becoming one of the major commercial districts in Japan. The striking Shinagawa Inter city Tower A, gives spectacular views over the city, Tokyo Bay and the Rainbow Bridge. The building has convenient undercover access to Shinagawa Station, which provides direct access to Narita and Haneda Airports. The second floors of the buildings are connected to one another by semi-roofed aerial walkways called skyways.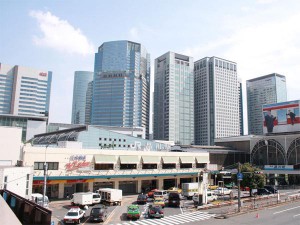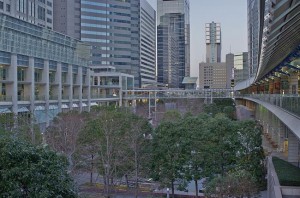 The buildings themselves were designed with the environment in mind, using natural ventilation and a cheap night electrical system for heating and low voltage lighting. Infra red reflecting glass was also used during the construction, providing shelter from harmful sunlight, whilst providing plenty of natural light.
Every Sunday from 11 am ? 4 pm there is a flea market inside the Shinagawa Inter city building. It???s completely free to enter and there are lots of stalls. Selling lots of kids clothes, toys, women???s and men???s clothing, accessories, electronic goods and just about everything else. It???s advised that you go early as people really do get there as soon as it opens and buy out just about everything within the first few minutes, literally.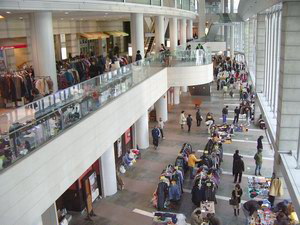 Since this flea market is held indoors, it???s pretty easy to take kids along and there is no need to worry about the weather. There are clean bathrooms, a McDonald???s is nearby and a big outdoor courtyard-like space for the kids to run around and play. Even if you just leave with one thing, it???s always fun to browse around the flea markets. To get to the Shinagawa Inter city Flea Market by train, take JR or Keikyu lines to Shinagawa station and take the Konan Exit (羝??????).
A delightful selection cafes and restaurants can be found dotted all around the complex as well as a few watering holes. With space being such a commodity in Tokyo, the mixed usage of space seen within the complex is one to be admired. It manages to cater for every whim and it???s all provided in an eco friendly environment.
—
Higherground Co.,Ltd.
2-8-3 Minami-Aoyama, Minato-ku, Tokyo, Japan
TEL:03-6459-2230
HP:http://www.higherground.co.jp/
TOP PAGE:?https://livingtokyo.net/