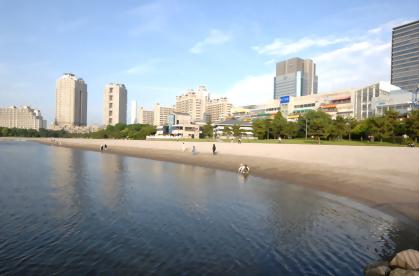 Odaiba Seaside Park (????伾?贋儀羌??????)?is a man-made seaside park where you can fully enjoy Tokyo's waterfront.
Unfortunately, swimming is not allowed, but there are many other leisure activities including paddling and boardsailing and the superb scenery of the towns on the opposite shore can be viewed over the Rainbow Bridge, so even a simple walk in the park is a pleasure.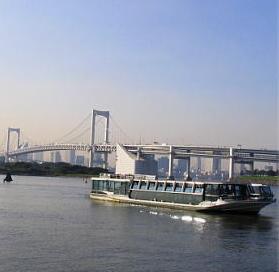 A scenic walk along the sandy beach takes you to "Daiba Park (?伾?翫????)" that still has traces of the Edo Period (1603-1867) and "Shiokaze Park (羹?※?????)" with its beautiful fountain.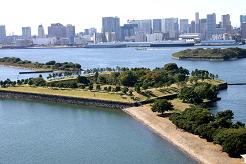 Daiba Park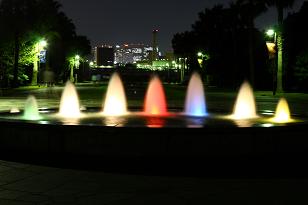 Shiokaze Park
Walking along the footpaths you can see the Statue of Liberty (????宴??コ腑?)?that was a gift from France and stands along the skywalk, and the "Marine House" observatory with its variety of restaurants and shops all of which are highly recommended photo spots. The atmospheric night scenery of the Rainbow Bridge and Tokyo Tower viewed from the observatory creates a picturesque, lifetime memory. And along the boardwalk it???s littered with couples as this is considered to be Tokyo???s most romantic visits. There is also a pier nearby for the sea bus, so that visitors can take a special cruise in Tokyo Bay.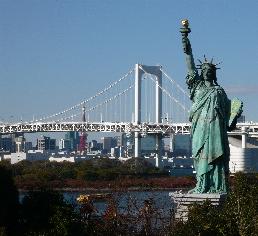 If you love Japanese TV and want a change of scenery in Tokyo, then this is the place for you. The huge alien, silver building that you cannot miss once you have embarked from the train on the Yurikamome Line is the FUJI Terebi headquarters (Fuji TV Studios). Home to some of the best TV shows in Japan.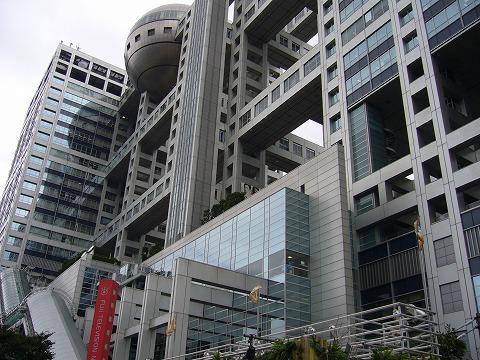 Taking the escalators up into the building you can see how TV shows are produced and if you are lucky enough, you may even get to see some shows being taped. Looking around around Fuji Terebi studios is completely free and souvenir???s can be purchased.
Once you have looked around Fuji terebi there is a shopping centre nearby called Aqua City (??≪???≪?激?????), which has a large cinema, plenty shopping and the Sony Explora-Science centre.
If you have kids (or you are someone young at heart) this is a must see, everything in the museum is interactive, education and fun.
http://www.sonyexplorascience.jp/english/index.html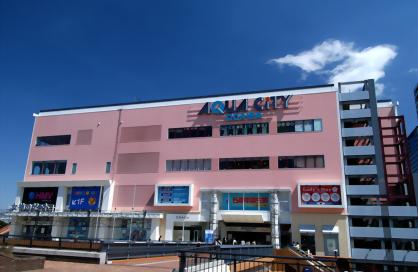 For more information about Aqua City, click here!
Besides having stunning views, romantic walks and sandy beaches. There is ample shopping, entertainment to fill every need and accommodating hotels all within short walking distance catering for the old and young alike. This is a fantastic place to go even if it???s just for a day just to see a different side of Tokyo.
—
Higherground Co.,Ltd.
2-8-3 Minami-Aoyama, Minato-ku, Tokyo, Japan
TEL:03-6459-2230
HP:http://www.higherground.co.jp/
TOP PAGE:?https://livingtokyo.net/