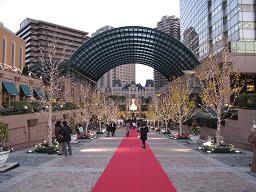 Yebisu Garden Place, located in Ebisu, which is a neighborhood in Shibuya, Tokyo. It???s conveniently Located near Roppongi and central Shibuya. Ebisu can be easily accessed with the JR Yamanote and Hibiya lines via Ebisu Station. It has boutiques, vintage stores and patisseries all within easy walking distance from Ebisu station.
Ebisu's main tourist attraction is centred around the Yebisu Garden Place. Accessible from the East Exit of Ebisu Station via the Yebisu Skywalk covered moving walkway; it includes the headquarters of Sapporo Breweries, The Yebisu Beer Museum and the Tokyo Metropolitan Museum of photography.
Ebisu was founded around 1928 as a community developed around the Japan Beer Brewery Company facilities where Yebisu Garden Place now stands. Yebisu Beer, named after Ebisu, one of the Japanese Seven Gods of Fortune, was introduced in 1890 by Japan Beer and has long been a local favourite. The area adopted its name from the train station built in 1901 by the company to facilitate distribution of its beer. Japan Beer has since reorganized and was renamed Sapporo Breweries Ltd. After the breweries were moved to Chiba in 1988, the area was redeveloped as the Yebisu Garden Place, which opened to the public in 1994.
The spelling of the beer "Yebisu" is done so intentionally. Even with or without the "y" the pronunciation is the same as "Ebisu".
This skyscraper complex offers beautiful views and a little something for everyone can be found. Hosting a large variety of restaurants and watering holes, you can pick your pleasure from the food and drinks on display at the entrance to each location. As this is a transit point for many commuters on the Yamanote and Hibiya lines, Ebisu is home to many bars and restaurants, from Izakaya-style restaurants, to English-style pubs, to old-fashioned Tachinomi (stand and drink) bars. After a hard days work, one can pop into any one of the local bars and join many other workers relaxing, sipping on a crisp, cold pint. The Yebisu Garden Place offers yet another treat, the tower features fantastic views over Tokyo from its restaurants up on the 38th floor.
The Great Japan Beer Festival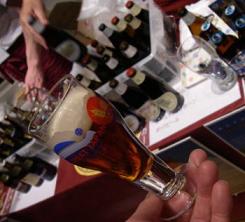 Fortunately, it's not all sake in Japan. In June of each year, Yebisu Garden Place plays host to more than 120 local and internationally crafted brews at Tokyo's Great Japan Beer Festival. Certainly not one to be missed, be one of the first to try the winner of the Japan Beer Cup! Cheers!
—
Higherground Co.,Ltd.
2-8-3 Minami-Aoyama, Minato-ku, Tokyo, Japan
TEL:03-6459-2230
HP:http://www.higherground.co.jp/
TOP PAGE:?https://livingtokyo.net/