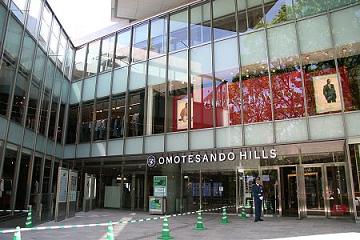 Omotesando Hills (茵??????????????)?was built in 2005, which was part of a series of urban developments in Tokyo done by the developers, Mori Building and designed by Tadao Ando. It occupies a large proximity of Omotesand??, containing over 130 shops and 38 apartments. Omotesand?? is a famous shopping and residential road in Aoyama.
The construction ran at a cost of $330 million, replacing the Bauhaus-inspired D??junkai Aoyama Apartments (???羹や?????絮宴?≪????若??), which had been built in 1927 after the 1923 Kant?? earthquake. A small section of the old apartments still remains, having been reconstructed in the Southeast part of the new complex.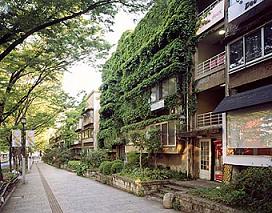 Dojunkai Aoyama Apartments
Shopping
For many years, Omotesando has been the trendsetter in Japanese fashion and culture. These days the Omotesando area has a new focal point, the Omotesando Hills.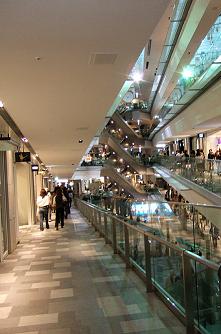 Hosting near 100 retail outlets with its target market being a more mature audience whom enjoy the city life while having a strong sense of fashion. The complex boasts flagship stores, boutiques and exclusive outlets from leading overseas brands as well as exclusive domestic brands offering a unique fashion style known as the ???Omotesando Hills Mode???, especially for mature individuals who would prefer avoiding the boundaries of style. Aside from the trendy shopping, the complex sports a host of other stores for home, kids and an array of multi-purpose stores.
Caf辿s and Restaurants
One could never go hungry during a shopping excursion with the rich selection of Japanese, Western and fusion cuisine (Japanese/Western mix). And for the sweet tooth there are confectioneries and delightful wine bars to wet the palette for the budding connoisseur. All of which are stylishly presented in modern and welcoming surroundings.
Wagon stalls
These small stalls can be found dotted all around the vicinity of Omotesando hills, playing just as an important role as the shops and restaurants found within the complex. Each offering a unique taste of the latest fashions and plentiful cultural ideas.
Events Space
Within the Omotesando Hills are two stylish event spaces. Larger one (Space O) being ideal for a wide range of events such as exhibitions, press conferences and visual productions the other more compact space (Space PE43), serves well as an art gallery, sales or new product displays.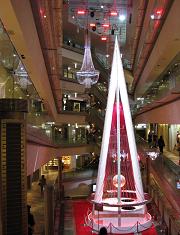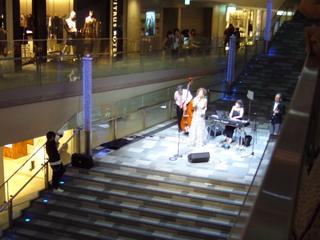 Residence
Tadao Ando, a world-renowned architect designed the complex with an ideal conception of urban living in mind. When looking at the design, simplicity springs to mind coupled with the contrasting concrete and glass with pebble floors.
—
Higherground Co.,Ltd.
2-8-3 Minami-Aoyama, Minato-ku, Tokyo, Japan
TEL:03-6459-2230
HP:http://www.higherground.co.jp/
TOP PAGE:?https://livingtokyo.net/