Love Hello Kitty?
Love Snoopy or any fancy characters?
Or, Love something entertaining?
Kiddy Land is a chain of toy stores full of playful spirits and new discoveries, expressing dream-inspiring world views through characters, gimmicks, toys and something for the home etc.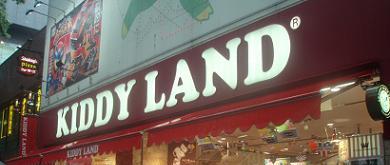 This entertainment shop is a landmark along with the Omotesando street,
Harajuku.
You can see demonstrations of popular Japanese zakka (general goods) and
trendy toys at the store.
The shop is always filled with many people who are teenagers and foreigners
seeking for something new and fancy goods. You also can find something
interesting for your home, kitchen bathroom, school and even outdoors.
For more information, please check the website below:
http://www.kiddyland.co.jp/en/index.html
Recommendations:
Petite Blythe (design by Mamechiyo)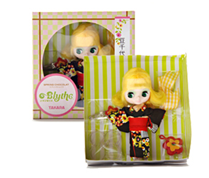 Petite Blythe Dolls come with more than 100 fashion accessories and
hairstyles. Blythe has large, captivating eyes that blink, demonstrating
different expressions when her head is tilted.
Blythe comes in several different costumes that you can collect. Shown
here is Blythe???s kimono costume that is crafted with inspiration from
traditional kimono patterns and comes with darling accessories.
(Available only in Japan)
Tughinohi-kerori (Kerori tomorrow)
A frog, Kerori, who turns green when it's sad, and turns pure white when
It is happy. Kerori will easily cheer you up and have you smiling
throughout the day. So adorable, Kerori the frog will wash your sadness
away with the Keroribath sponge with a hanging net. Make Kerori a fun
resident in your bathroom! Kerori is ready to move from KIDDY LAND to
your house. (Available only in Japan)
Get more Hello Kitty?
Nowadays, there are so many Kitty-chan with different appears for example,
Punk Fashion or in Animal suits like Madonna. They are very popular
amongst foreign people who have only ever seen Kitty-chan in general
clothes. You can meet her in different outfits there!
Goods for events?
KIDDY LAND does not only have character goods but also party goods.
There is a special space for events on the 1st floor, which offers a
of party goods for events like Halloween and Xmas. You can always check
what is being currently sold online and you are guaranteed to find
something interesting.
However, KIDDY LAND Harajuku will temporarily be closed due to construction
work from August in 2010 to the summer in 2012.
You cannot miss the last chance of the shopping there by August 2010.
You also can look forward to the new KIDDY LAND Harajuku that will be
revived in 2012.
—
Higherground Co.,Ltd.
2-8-3 Minami-Aoyama, Minato-ku, Tokyo, Japan
TEL:03-6459-2230
HP:http://www.higherground.co.jp/
TOP PAGE:?https://livingtokyo.net/