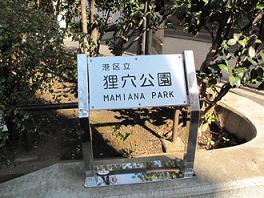 Mamiana Park (??悟??????)?is located in the up-market suburban district
Azabutanukicho, part of the Minato Ward. Mamiana in Japanese means
???Raccoon dog cave??? named after the supposedly once indigenous animal the Tanoki (???, Raccoon-dog).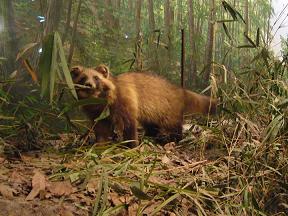 a Tanoki.? Not a photo taken in Mamiana park, though 🙂
To add, the park is surrounded by greenery aptly resembling a ???Raccoon dog cave???, hence the name. Even the atmosphere hints the possibility of Mr. and Mrs. Tanuki popping out any minute from behind a bush to say hello!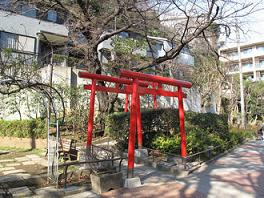 A Torii (薐ュ??, Shrine gate) in Mamiana Park.? What is interesting is that this shrine honors foxes, which were thought to be the rival of Tanoki in the Japanese folklore.
In a city where space is an absolute commodity, the park welcomes
relaxation for both adults and children alike, with ample seating and a
well-equipped play park all of which are very well maintained.
Beside the fact that it is located in central Tokyo, the park is far away
enough from hustle and bustle allowing one to put their head down on a
park bench without the worries of litter or pollution.
Close to the Park is the famed Tokyo Tower merely a stone???s throw away,
and within short walking distance the Roppongi Hills, catering to the
prospective shopper???s every delight. Shopping in the Roppongi hills
ranges from food halls to boutiques and entertainment such as bars and
movies.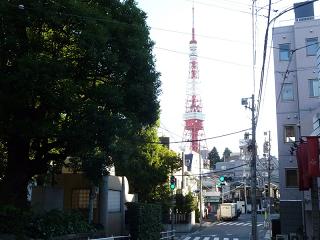 Seeking the Tokyo Tower from Mamiana Park.
A typical afternoon in May in the park, a few working people (Salary
men) are enjoying their lunch on the benches near the fountain. Kids
are completely absorbed playing on the slide and in the sandbox. Mothers
are gathered chatting about their daily affairs, painting a truly delightful and peaceful scenario of this unique district.
Whether you are a shopper or enjoy good food and drink, everything can
be found minutes away in either Azabu or Roppongi.
Take a break in one of the many coffee shops enjoying one of the many
selections of coffee???s or tea???s then relaxing after shopping.
Or even enjoy a quiet meal in one of the many bistros or restaurants
located in the area. And for the avid night owl, there are a wide
variety of colourful bars and clubs dotted all around Roppongi.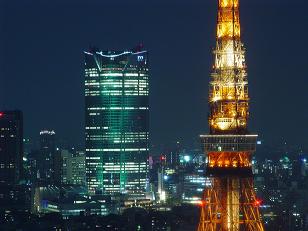 Tokyo Tower and Roppongi Hills.
There are many places of interest around in the area. For example:
The Tokyo American Club (which is unfortunately closed due to
renovations until 2011), which offers a wide range of recreational
activities.
http://www.tokyoamericanclub.org/
For the art lovers The Bridgestone Museum of Art, Nagasaka Annex (The Ishibashi Foundation) hosts a collection of sculptures and paintings on exhibition. On Saturdays there are lectures given from leading writers
and theorists on pieces of art that are on display and their artist???s
(unfortunately this is only in Japanese, however it is a great time to
hone the language skills). Once you have completed your tour, there is
a tearoom with a delightful selection of beverages. As we all know no
trip to a museum is complete without a visit to the Museum shop for any
souvenir???s one may wish to buy.
http://www.bridgestone-museum.gr.jp
All in all, the area is saturated in culture, serenity, tranquil living
and all the amenities one could ask for all within minutes walking
distance.
—
Higherground Co.,Ltd.
2-8-3 Minami-Aoyama, Minato-ku, Tokyo, Japan
TEL:03-6459-2230
HP:http://www.higherground.co.jp/
TOP PAGE:?https://livingtokyo.net/