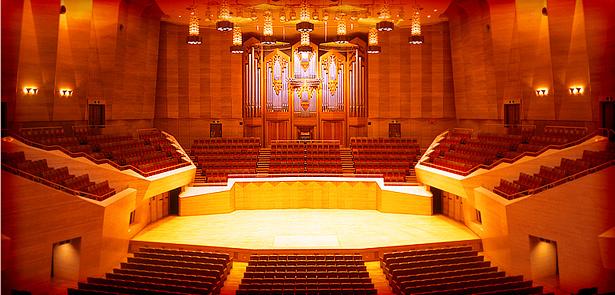 Suntory Hall (??泣?潟??????若????若??)?is the most famous concert hall in Tokyo, located in The Ark Hills complex near the U.S. Embassy in the Akasaka district of northern Minato ward.
It was constructed in the late 1970s with its concept ???The world???s most beautiful sounds???and opened in October 1986.
It is said that it???s the first building to be created solely for music.? Suggestions and advice by world famous conductors and performers were gathered to design the hall.
???The world???s renowned maestro was moved.???
Suntory Hall was deeply associated with the maestro Herbert von Karajan, who recommended the ???vineyard configuration??? for the concert hall.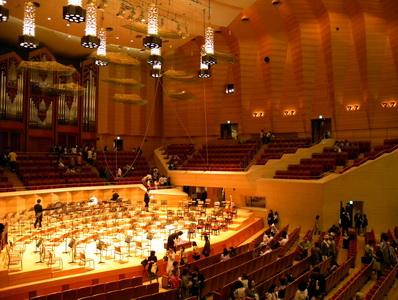 The Main Hall is the great vineyard concert hall whereby the audience surrounds the concert floor with all 2006 seats arranged to face the stage in a terraced design.
It makes sounds of music reach all of audience like a shower of sounds.
And also, audience can see performers playing forward, backward or from both sides, so that audience and performers can share dynamic acoustic and visual experiences together.
The maestro said ???I was deeply moved by the outstanding sounds and circumstances of the hall.???? Suntory Hall makes not only audience but also all performers be satisfied.
???Facilities & Location???
???Main Hall (紊с????若??)
All 2006 seats are arranged in the vineyard configuration around the concert stage, which is 250? in 21 sections.
In the center rear of the hall, there is a beautiful pipe organ with 74 stops and 5898 pipes.
It is one of the largest pipe organs in the world. In 2009, Barak Obama, who is the U.S. president now, made a speech on the stage.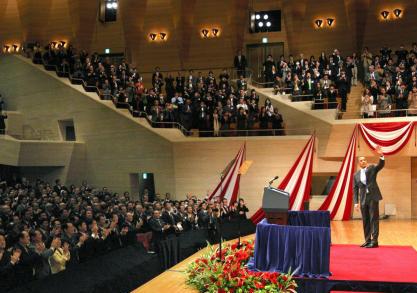 ???Small Hall (絨??????若??)
In the Small Hall, also called 'Blue Rose',?all seats are removable and the stage consists of 7 trap sections which can be raised by up to 60 centimeters in 20-centimeter increments. In this hall the audience can come very close to the performers, so that it is possible to create new types of concert performances.
In addition to the halls, there are great facilities such as the foyer, a gift shop and a bar.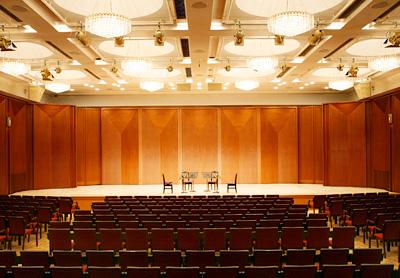 ???Access
You can get to?Suntory Hall?by subway, bus or car.
Subway
???Roppongi-icchome St. -?Namboku Line(Exit No.3), 5?minutes walk from the station.
???Tameike-sanno St.?-?Ginza&Namboku Lines(Exit No.13), 7 to 10 minutes walk from the station.
Bus
???Akasaka ARK Hills Stop, Toei Bus #01 between Shibuya and Shimbashi.
Parking
???Parking lots are located at ANA Intercontinental Tokyo or the ARK Mori
Building, it???s easy access.
???External links???
Suntory Hall???s official website in English below.
???http://www.suntory.com/culture-sports/suntoryhall/
—
Higherground Co.,Ltd.
2-8-3 Minami-Aoyama, Minato-ku, Tokyo, Japan
TEL:03-6459-2230
HP:http://www.higherground.co.jp/
TOP PAGE:?https://livingtokyo.net/