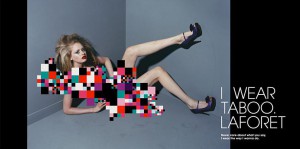 ???Pop culture box- Laforet Harajuku!???
Harajuku is the center of Japan's most extreme teenage cultures and fashion styles, and also offers syopping for grown-ups and historic sights.There are two focal point of Harajuku's teen-oriented shops.
One is Takeshita Dori(腴剛????????, Takeshita Street) which is the symbol of Harajuku and birthplace of many Japan's fashion trends.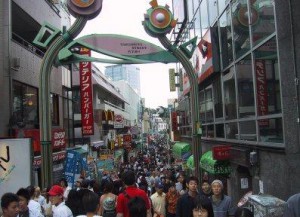 Another is the landmark of Harajuku-the popular fashion building called ???Laforet Harajuku.???
Laforet Harajuku is a trend-setting shopping complex,which has been opened since 1978.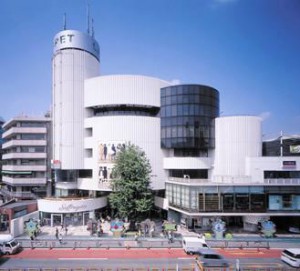 It consists of 7 floors of fashion boutiques and a variety of shops, mainly for young, female audience.
But there are fashionable shops for male, and many kinds of goods and items such as living goods,books and CDs.
On the top floor, the Laforet Museum hosts various events and exhibitions, including art,music,design, photography and so on.It seems to be the epicenter of fashion, art and culture. When its seasonal bargain sales are held, so many people overflow?the building.
It is located along Meiji Avenue in Harajuku on the northern side of Shibuya.
It is a short distance from the small north exit named Omotesando-guchi of JR Line Harajuku St.
As Takeshita Street begins at the exit and goes down-slope to Meiji Avenue, you can go to Laforet while enjoying search for cute and cheap items.
???Harajuku-experts love crepes? ???
Do you know what the sweets symbolizes Harajuku is? The answer is??祉?獅??crepe???!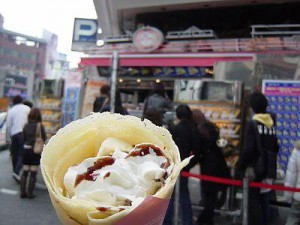 When you walk down the Takeshita Street, you would notice something smells nice,sweet.
What's this?- You'll find that there are several crepe shops both sides of the street and some young people are wandering the street ,with crepe in their hand.You might wonder and feel funny and strange.
Here is ???crepe??? story.
In 1976, when there were lots of parking areas instead of entertainment facilities in Tokyo, the first-crepe shop was established on trial. It provided portable crepes with a wrapping for the public.
At that time, in Japan , there were few fashionable and wonderful foods,so that a typical sweets of France, crepe, deeply impressed the Japanese. Then, it became the talk of the whole country.
With this success, the first orthodox crepe shop has opened on the Takeshita Street.? It???s named ???Marion Crepe (?????????潟?????若??)???and has been very popular still now.There are a wide variety of tastes.
Which is your favorite?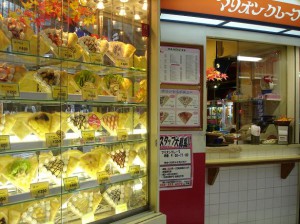 ???External Links???
???Laforet Harajuku Official Web Site???
http://www.laforet.ne.jp/index.html
???Marion Crepe???
http://www.marion.co.jp/index.html
—
Higherground Co.,Ltd.
2-8-3 Minami-Aoyama, Minato-ku, Tokyo, Japan
TEL:03-6459-2230
HP:http://www.higherground.co.jp/
TOP PAGE:?https://livingtokyo.net/