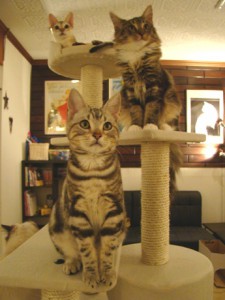 Tokyo is a very convenient metropolis, everything in the reach of your hand…but there is little space for people to live in.? Many people are cramed into small rooms, often being unable to have pets.
Looking for your room, maybe you have experienced a scene like this: location, good.? size, ok.? view, splendid!? pets…not allowed…
Of course there are many rooms at which having pets are OK or negotiable, but even if you can't have pets in your own room, you don't have to give up having a lovely time with animals.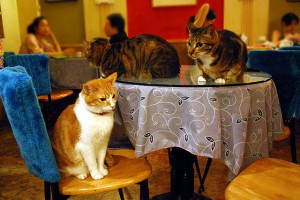 Have you heard of?Cat?Cafe (??????????) ?? It is a theme cafe whose attraction is cats that can be watched and played with.??Customers pay a cover fee, generally hourly, and hence cat cafes can be seen as a form of supervised indoor pet rental.
Below are some Cat Cafes in the center of Tokyo.? Find your favorite cats, and have a great time with them! 🙂
Neko Cafe Hapineko
???Address: 3-28-2, Dougenzaka, Shibuya-ku, Tokyo
???Open Hours: 11:00~23:00
???HP: http://hapineko.com/index.html (Japanese)
Nyafe Melange
???Address: 13-7-1, Ebisu, Shibuya-ku, Tokyo
???Open Hours: 11:00~22:00
???HP: http://www.nyafe-melange.com/ (Japanese)
—
Higherground Co.,Ltd.
2-8-3 Minami-Aoyama, Minato-ku, Tokyo, Japan
TEL:03-6459-2230
HP:http://www.higherground.co.jp/
TOP PAGE:?https://livingtokyo.net/