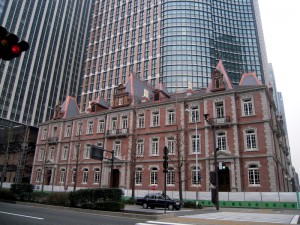 In April 2010, a new museum in Marunouchi, Tokyo,?opened.
This is the Mitsubishi Ichigokan Museum, Tokyo (筝??偊???埌え臂?茵?蕕?).? It was completed in 2009, with approximately 800?sqm (8,600 sqft) of exhibition space, spread over 20 rooms, throughout the building's 6,000?sqm (65,000 sqft) floorplan.? The museum focuses on 19th-century Western artwork.
What?is special about Mitsubishi Ichigokan Museum, is that this building is a?precise recreation of the original Mitsubishi Ichigokan, which stood on the same location until 1968.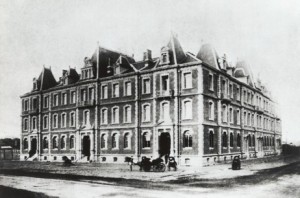 Originally completed in 1894 and designed by British architect Josiah Condor, Mitsubishi Ichigokan was the first office building in Japan.? Marunouchi kept developing after Mitsubishi Ichigokan was built, and now the area is one of the foremost business districts in Japan.
Buildings made of bricks are not so out of common, but understanding the history, Mitsubishi Ichigokan is something special.
If you have a plan to go to Marunouchi Building (筝吾?????), or Tokyo International Forum (??初?????????若????), why not go a little further to Mitsubishi Ichigokan?
Mitsubishi Ichigokan
Website: http://mimt.jp/english/index.html (Eng)
—
Higherground Co.,Ltd.
2-8-3 Minami-Aoyama, Minato-ku, Tokyo, Japan
TEL:03-6459-2230
HP:http://www.higherground.co.jp/
TOP PAGE:?https://livingtokyo.net/