If you are tired of ordinary dining, this might be the restaurant for you 🙂
The name is 'Roppongi Horror Dining Trick or Treat'.? As it is shown in the name, you will be in a nightmare at this restaurant!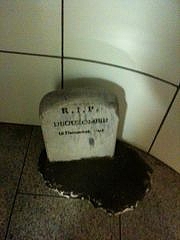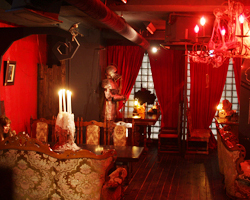 At the entrance, a gravestone will welcome you.
In the dark light of the restaurant, horror movies are on air, and numerous dolls are displayed.
The master, in a frightening costume, will take you to your seat…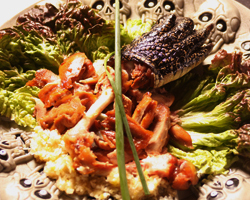 The menu is pretty normal (at least most of them are), bu they are served on wierd, freaky dishes.
This restauraut must be great for halloween parties, but it is open all year, so come over anytime you like!
Celebrities such as Quentin Tarantino and Tim Burton are said to be fans of this restaurant, so if you have luck, you may meet someone!
Roppongi Horror Dining Trick or Treat
Location: Roppongi
Open Hours: Mon-Thur 18:30-2:00, Fri-Sat 18:30-5:00
Website:?http://hdaimc14.xsrv.jp/trick_or_treat/top.php (Jap)
—
Higherground Co.,Ltd.
2-8-3 Minami-Aoyama, Minato-ku, Tokyo, Japan
TEL:03-6459-2230
HP:http://www.higherground.co.jp/
TOP PAGE:?https://livingtokyo.net/