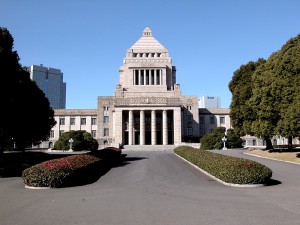 Parliamentary regimes and parliament buildings vary from country to country, and the difference is quite interesting.
If you are interested in the Japanese National Diet, there are tours in the building.
Tours in the House of Councilors are on every weekday, with few exceptions, such as the day of the open ceremony of the Diet.? Reservation is required for groups of 10 people or more.
Visits?to the House of Representitives?are restricted, and only those who were introduced by?a Member of the House can enter.
The tour to the House of Councilors starts at the lobby, where there are exhibisions of the history and functions of the House.? The guide will take you to the court gallery, room of the Imperial family, central hall, garden, etc.? Approximate time required is 60 minutes.
The National Diet Building is very accessible, 3 minutes walk from Nagatacho station.
To deepen your understanding of Japan, a visit might be a good idea:)
For more information:
http://www.sangiin.go.jp/eng/info/dbt/index.htm (Eng)
—
Higherground Co.,Ltd.
2-8-3 Minami-Aoyama, Minato-ku, Tokyo, Japan
TEL:03-6459-2230
HP:http://www.higherground.co.jp/
TOP PAGE:?https://livingtokyo.net/