If you stroll into an Izakaya (Japanese style pub) in the year's end, you will be told that all the tables are taken, with high probability.? In December, many Izakaya and restaurants are likely to be the most crowded throughout the year.? One reason for this might be Christmas celebration, but there is a far larger reason, Bonenkai.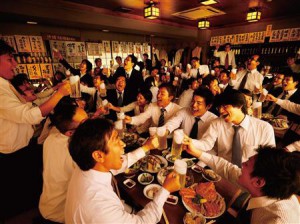 Bonenkai (綽?綛岩??) literally means 'forget-the-year-gathering'.? It is held to drink, eat, and forget all the bad things occurred in the going year.
Some Bonenkai are done to gather with personal friends, but most of them are held among work-related communities.? For some Japanese companies, Bonenkai is an official event.
Well, it is not that the Japanese people are so depressed, and cannot get along without forgetting everything.? It is just that people are always looking for an excuse to gather up and drink, and this must be common among many countries 🙂
Also, in the new year, Shinnenkai (??医拘篌?, new-year-gathering) would be held.? If you are to have a meet up at an Izakaya during this season, an early reservation is a must!
—
Higherground Co.,Ltd.
2-8-3 Minami-Aoyama, Minato-ku, Tokyo, Japan
TEL:03-6459-2230
HP:http://www.higherground.co.jp/
TOP PAGE:?https://livingtokyo.net/