Ginza is known as a luxurious shopping area, always crowded with shoppers and tourists, but it is not that this?area?had been this glamorous throughout its history.
Ginza (???綺?) was named after the silver (???)?mint established?in the?area?in 1612.? Today, there is a monument 'Birthplace of Ginza (???綺х?榊ゥ?????)' near Matsuya department store, where the mint was.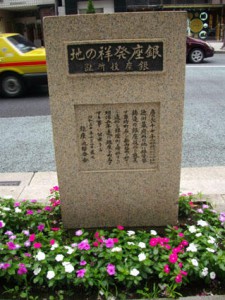 After the Tsukiji area burnt to the ground in 1872, the?Japanese government started the development of Ginza as a modern area. ?The plan of the government was to build a fireproof city, and to make the area connecting Shinbashi station, the terminal of the railways, and Nihonbashi, the center of economics, the model of modernisation.
The government?constructed?brick buildings, and larger, better streets connecting Shinbashi Station and?Tsukiji.? In 1873, the bricktown along Ginza Street was completed, and the completion of the whole town was in 1877.
In 1923, most of Ginza was burnt down because of the Great Kanto Earthquake.? Afterwards, the brick buildings were torn down, and were replaced by more modern buildings.? Many department stores, theaters, and cafes were built, and many fashionable people strolled?about the streets.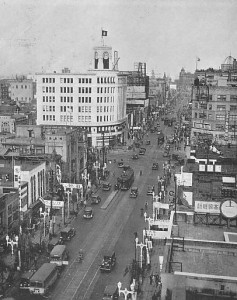 Most of the old Western?buildings of this age disappeared, but some still remain. ?Most famous must be?the?Wako building with the iconic Hattori Clock Tower. The building and clock tower were originally built by Kintaro Hattori (????????紊???), the founder of?Seiko, a famous watch company.
Another symbol of the history of Ginza is the colonnade of Willows.? The Willow colonnade was made in 1877.? Afterwards, the colonnade was transplanted to Gingko, which is seen today, but still, Willows are thought to be the symbol of Ginza.? Every May 5th since 2006, Ginza Yanagi Matsuri (???綺ф?潟?障?ゃ??, Ginza Willow Fesitival) is held.
—
Higherground Co.,Ltd.
2-8-3 Minami-Aoyama, Minato-ku, Tokyo, Japan
TEL:03-6459-2230
HP:http://www.higherground.co.jp/
TOP PAGE:?https://livingtokyo.net/