Ginza has been the leader of culture since the late 19th century.? Mainly in fashion, and also in food culture.? Many Western foods were first introduced in Ginza, and some Western-Japanese fusion foods were born.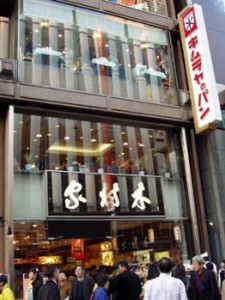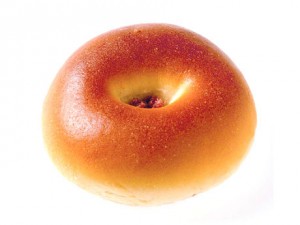 You may have seen the store in the photo above, near?Mitsukoshi and Matsuya.? This is the flagship store of Kimuraya (?????絎?, the sign in the photo reads 絎倶?????, for Japanese was read from right to left in the past), a famous bread company.
Kimuraya, first named Buneido (?????怨??), was founded in 1871.? The famous Anpan was invented here, as the harmony of Japanese and Western food culture.? Anpan is bread with sweet bean paste inside, and a salted cherry blossom on top.
What occured afterwards in Ginza?
In 1895, the first Western-food resraurant, Rengatei (??????梱) opened.
In 1897, Ginza Sembikiya (???綺у?????絮?) opened as a fruit store selling imported fruits, and also started the first soda fountain in Japan.
In 1902, Shiseido, the now famous cosmetic brand, opened a soda fountain (currently named Shiseido Parlor) in its shop, and started selling soda and ice cream.
In 1911, Cafe Printemps, a cafe mocking a cafe in Paris opened, and became the watering hole for cultural figures.
After WW2, many luxurious restaurants from all over the world opened in Ginza.? With Lecrin and Maxim's de Paris, and many exclusive clubs, Ginza came to be concerned as the area of luxury.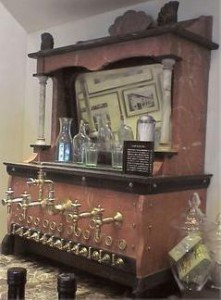 Soda fountain machine, displayed in Ginza Shiseido Building.
Though the appearance has changed a lot, there are many old stores and restaurants still open in Ginza.? While walking around Ginza, look for the trace of history, and you sure will find a lot!
—
Higherground Co.,Ltd.
2-8-3 Minami-Aoyama, Minato-ku, Tokyo, Japan
TEL:03-6459-2230
HP:http://www.higherground.co.jp/
TOP PAGE:?https://livingtokyo.net/