Ameyoko (??≪?≧┴) is a?shop street along the Yamanote line rails between Ueno and Okachimachi Station.? The 400m long street?consist of more than 400 stores.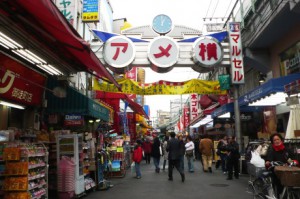 Ameyoko is short for Ameya Yokocho (??≪?<?ゆ┴筝?).? There are several explanations?regarding this name.? One possible origin is that, because this street was a black market selling items disposed of by the US Army gathered here after WW2, this street came to be called Ame (short for America) – Ya (絮?, shop).? Another is that Ameya means Ame (蕋?, candy) – Ya (shop), and the street was named this because many candy stores are gathered here.
Any way, Ameya Yokocho is?usually called by its short term Ameyoko?today, and the sign of the streets also reads Ameyoko, as is in the photo above.
Today, various goods, such as food (mainly sea food and dried goods), clothings, and fashin items?are dealt in Ameyoko.??The number of sports equipment stores for youths increased in recent years.? On the basement floor of Ameyoko Center Building is a market of ethnic goods, where many of both the clerks and customers are Chinese.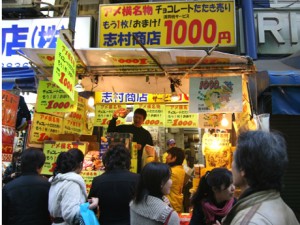 In the photo above is the feature of Ameyoko, 'Tatakiuri (????紕蚊??)'.? Tatakiuri is a?limited-time sale at a highly discounted price.? In the photo, a bag of chocolate is sold at 1000 Yen, and the shop will give you one more chocolate as a bonus.
Besides Tatakiuri, you can ask for a discount at many shops in Ameyoko.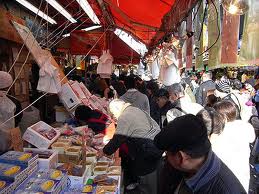 Ameyoko changes its face in the?year's end.? Many people visit Ameyoko for articles of food for celebrating the new year.? It is so crowded that it may even take an hour to walk through this 400m street!
Opening hours and closing days depend on individual stores, but most stores open around 10:00 and close around 19:00.? Many stores remain closed on selected Wednesdays.? Some stores change its handlings in the year's end.
—
Higherground Co.,Ltd.
2-8-3 Minami-Aoyama, Minato-ku, Tokyo, Japan
TEL:03-6459-2230
HP:http://www.higherground.co.jp/
TOP PAGE:?https://livingtokyo.net/