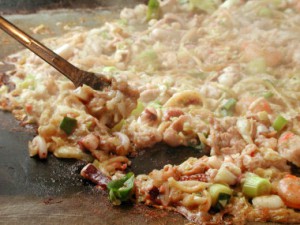 Monjayaki (??????????????若??), or Monja, is a Japanese fast food.??Monja is a?fried batter with various ingredients.? It is similar to Okonomiyaki (???絅純?睡?若??), another Japanese fast food, but Monja is made with a more watery dough.
The ingredients are finely chopped and mixed into the batter before frying.? After heated up, it is eaten directly off the grill using a small metal spatula.? The appearance is not so nice (it can be said that it looks like slop), the taste is delicious 🙂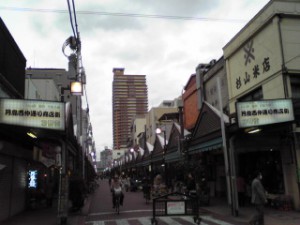 Many Monja restaurants can be found in Tsukishima (???絣?), where?Monja is said to have originated.? On a shopping street which is called 'Monja street', there are about 75 Monja restaurants.? Most also serve regular Okonomiyaki.
Monja was at first simple snacks for children in Tsukishima, a district that started as?a downtown with many row houses.? Today,?the range of?ingredients are very wide, including vegetable, meat, cheese, and sea food.? There are even sweet Monja with fruits in it!
—
Higherground Co.,Ltd.
2-8-3 Minami-Aoyama, Minato-ku, Tokyo, Japan
TEL:03-6459-2230
HP:http://www.higherground.co.jp/
TOP PAGE:?https://livingtokyo.net/