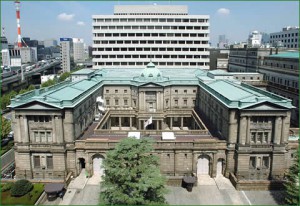 The Bank of Japan is located in Nihonbashi, Tokyo.? Currently, the new wing, which is a modern building, is used for?most the operations.? The old wing, designated as important cultural property, can be visited as a guided tour.? The tour includes an introductory video about the Bank and a visit to exhibits of historical interest and the underground vault of the Old Building, which is registered as an important cultural property.
The old wing of the Bank of Japan was completed in 1896.? In the Edo period, there was a gold mint in the site.
The building was very modern for that age.? It was the first building in Japan to install a flush toilet, and the 2nd elevator made in Japan was used.
In the basement is a vault, which was used for more than a hundred years from 1896 to 2004.? Expansion work was made in the early Showa period, which?expanded the width of the?vault to about 1426 sqm.? The door is 90cm thick, and weighs 25t.? It takes 2 men to open the door.? Inside the?vault are rails, which were used for lorries.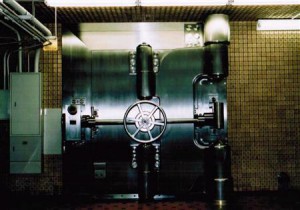 English guided tours of the Bank of Japan are available free of charge.? Reservations by phone is required.
Day/hour of?English guided tour: Tuesday, 11:00-12:00
Tour will not be held on a holiday of the Bank of Japan
For more information, visit the website of Bank of Japan.
http://www.boj.or.jp/en/type/etc/annai.htm (Eng)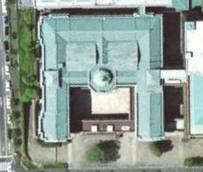 By the way, the old wing of Bank of Japan looks like the Kanji 'Yen' (???), the Japanese currency, when seen from above.? This is merely a coincidence, but isn't it interesting?? You can see this 'Yen' from Mandarin Oriental Tokyo, which stands right next to the building.
—
Higherground Co.,Ltd.
2-8-3 Minami-Aoyama, Minato-ku, Tokyo, Japan
TEL:03-6459-2230
HP:http://www.higherground.co.jp/
TOP PAGE:?https://livingtokyo.net/