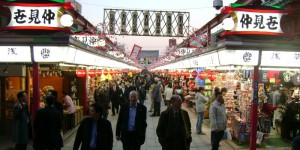 Nakamise (篁画??筝?) is one of the oldest shopping avenues in Japan.
After the Tokugawa Shogun settled in Edo (羆????, the former name of Tokyo), the population of Edo grew, and visitors to Sensoji temple (羌????絲?) increased.? Afterwards, neighbors of Sensoji were granted permission to set up shops on the approach to the temple.? This is the origin of Nakamise, and?it?is said that?this was?around 1688 to 1735.
Near Sensoji were cafes (though it is very different from the Western ones), and near Kaminarimon (??潔??), the entrance gate of Sensoji, were shops of toys, sweets, and souvenirs.
In?1885, the government of Tokyo ordered all shop owners to leave.? The area was reconstructed in Western-style brick in the same year. ?During the?Great Kanto earthquake in 1923, many of the red-brick shops were destroyed.??They were?rebuilt in 1925 using concrete, only to be destroyed again during the bombings of WW2.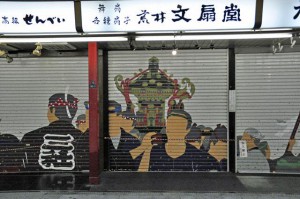 After the war, the people of Asakusa restored Nakamise, and in 1985, they celebrated the 100th anniversary of the modern Nakamise.? Illuminated signs were renovated, and the pavements were repaired.
In 1989, having Ikuo Hirayama, professor of Tokyo National University of Fine Arts and Music as editorial suprvisor, the shutters of Naakmise were painted with drawings of events in Asakusa.
The length of the street is approximately 250 meters and contains around 89 shops.? Take your time, and enjoy the shopping street and its history!
—
Higherground Co.,Ltd.
2-8-3 Minami-Aoyama, Minato-ku, Tokyo, Japan
TEL:03-6459-2230
HP:http://www.higherground.co.jp/
TOP PAGE:?https://livingtokyo.net/