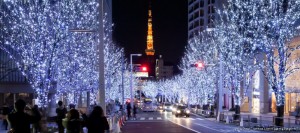 Illuminations around Town
By Richenda Elledge
Christmas is a very special time in Tokyo. Many places have beautiful illuminations that come alive in the evening as the days become colder and darker. Around town, one can enjoy the glittery and sparkling winter wonderland as trees, buildings and open areas are decorated with millions of colorful lights. Even landmarks like Tokyo Skytree or Rainbow Bridge flaunt the festive lighting. Don???t miss out on this opportunity to share a moment with your significant other or loved ones gazing at the amazing sights that can be found around town. Not a conclusive list, here are a few in the major areas of Tokyo.
Tokyo Midtown and Roppongi Hills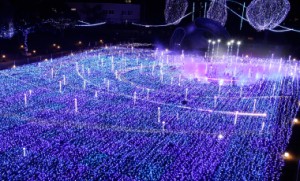 In Tokyo Midtown, the Starlight Garden, is the main attraction and takes place at the back of the complex where the park is located. It is a light show set to music that runs continuously every day. While it gets rather crowded, it is possible to get good views due to its size and because the show runs several times an hour, everyone comes and goes pretty quickly. In Roppongi Hills, a Christmas marketplace takes place along with the Whisky Hills event. The old-world style market houses stalls that sell draft and bottled German beers, mulled wine, sausages, schnitzel, soup and pretzel vendors, as well as craft workshops selling European style-ornaments and decorations in a cozy European village setting.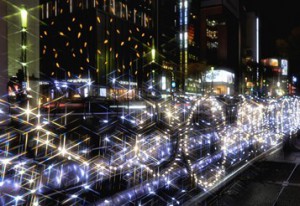 Ginza
Ginza boulevard turns into a sparkly and beautiful open space at Christmas. Almost every store has some sort of holiday display and the street is lined with Christmas trees and lights. One of the most outstanding display is from Mikimoto. It's a nice, festive stroll and that runs until January 6, while many others end right after Christmas to make way for the Japanese New Year. Also not to be missed are the elaborate light displays at Bulgari and Cartier.
Tokyo Skytree
The Tokyo Skytree and the surrounding area go into Christmas mode with the connecting pathways between Tokyo Skytree and Oshiage stations decorated with tons of LED lights. Projection mapping shows add to the festivities, which will take place from December 12 and paint the lower part of the world's tallest TV antenna white, gold, green, red and orange. In addition, German-inspired Solamachi Christmas Market which offers a good selection of seasonal sweets and mulled wine adds to the charm.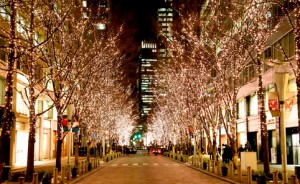 Marunouchi
Marunouchi Naka-dori is one of Tokyo???s most popular illumination spots. The street and trees are decorated with hundreds of champagne-coloured, low-energy bulbs, enabling the ?display to be eco-friendly as well as stylish. The area will stay lit until midnight every day in December.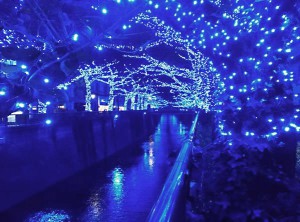 Nakameguro Blue Cavern
Called ???Ao no Dokutsu??? ( which translates to ???Blue Cavern???), this year's illumination show along the Meguro River gives the area a mysterious, bluish glow until Christmas Day. Thousands of blue LEDs reflect off the water's surface to create an immersive light-up experience. A nice movie can be viewed here: http://nakameguro-aonodokutsu.jp/
Other places of interest are:
Yebisu Garden Place (http://gardenplace.jp/special/1410baccarat/)
Yomiuri Land Jewellumination (http://www.yomiuriland.com/)
Canyon d'Azur ? Caretta Illumination (http://www.caretta.jp/event/topics.html#Illumination_2014)
Tokyo Dome City Winter Illuminations (http://www.tokyo-dome.co.jp/illumination/2014/)
Tokyo Tower Christmas Illumination (http://www.tokyotower.co.jp/index.html)