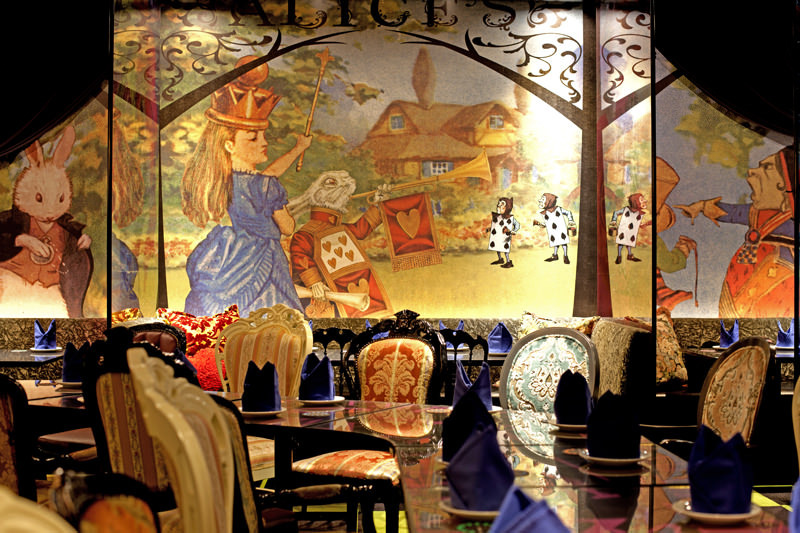 Theme Restaurants in Tokyo
By Richenda Elledge
Tokyo is a mecca for gastronomical delights, from award-winning Michelin-starred restaurants to fusion izakayas and street vendors. The restaurant business is one of the most competitive industries in the city. Some Tokyo eateries have taken a more creative route, and have created special themed places. Here are a few — and by no means is this the entire list — that are truly quite out of this world.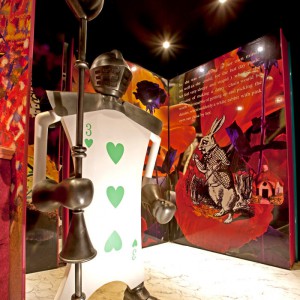 Alice???s Fantasy Restaurant
This theme restaurant chain is about Lewis Carroll???s Alice in Wonderland. The atmosphere of the restaurants is very cute and friendly; a suitable place for families. There are several branches around town including areas like Ginza, Shibuya, Ikebukuro and two in Shinjuku, and they all have different names such as Alice in a Labyrinth (Ginza) and Alice in Magical Land (Shinjuku).
Customers are immersed in a sense of fantasy and surrealism and the design of the interior is centered around images and descriptions straight from the novel; such as, playing card dining tables, giant tea cup booths, a magic forest, and heart-shaped chandeliers. And of course, the menu matches the theme with dishes labeled after the story characters. Dishes include the Cheshire Cat Tail Pizza and Burgundy-style Braised Beef Cheek in Queen of Hearts Red Wine Sauce. Even for non-fans of Alice in Wonderland, these restaurants are a feast for the eyes. http://www.alice-restaurant.com/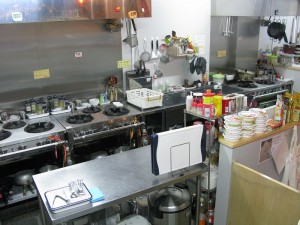 Self Kitchen, Higashi Nakano
Located in Higashi-Nakano, the owner here rents out the professional-grade kitchen and living room-like area for anyone who needs a space for their culinary activities. Pick and choose ingredients from the impressively stocked fridge and well-equipped kitchen. The charges are for usage fee and the ingredients used. Drinks are available to order, and non-cooks can also amuse themselves with a variety of games, reading material and the pinball machine.?http://profile.ameba.jp/oyaji-seihin/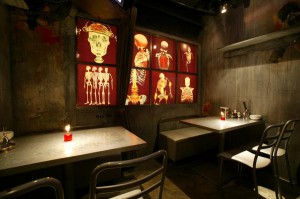 Alcatraz E.R.
Very creepy and one of Tokyo???s most crazy theme joints, the Alcatraz E.R. in Shibuya is styled after a hellish, prison hospital. Not for children, nor the squeamish, this eatery is definitely unique and one-of-a-kind — the kind that can only exist in a city as unique and ???different??? as Tokyo itself. Brace yourselves, the menu includes human intestines (actually a long sausage in a kidney dish) and various impossibly spicy delectables, while drinks include the Nounai Hassha (???brain buster???), which is a vodka-based cocktail in a life-size mannequin. Venture there at your own risk. ?head. http://alcatraz.hy-system.com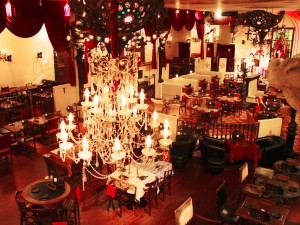 Christon Cafe
Not for the spiritually-sensitive, the Christon Cafe in Shinjuku is decorated with a wide range of religious paraphernalia. This theme restaurant offers Asian-European fusion food. It is operated by the Diamond Dining, which operates other theme restaurants; such as King of Pirates (Daiba), Vampire Cafe (Ginza).?http://www.diamond-dining.com/shops/christoncafe/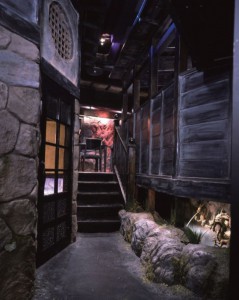 Ninja Akasaka
One of the more popular attractions for travellers, the Ninja Akasaka is a ninja-themed izakaya. The restaurant's interior involve cave-like passageways, bridges, ponds, and gardens. The restaurant???s signature ninja-inspired courses include Shuriken (star-shaped blades) grissini, vegetables Mont Blanc, ninja-style kurage (fried chicken), and special stone-boiled soup. Since it???s tourist-friendly, the establishment also offers vegetarian or halal-friendly courses for customers. This well-known establishment has been visited by celebrities like Steven Spielberg and Lady GaGa.
The customers are also entertained by the staff whom are dressed in the appropriate Ninja attire. To top it off, an illusionist visits each table to perform magic tricks and the staff get properly into character, sneaking around the corridors as if preparing to assassinate a target. http://www.ninjaakasaka.com/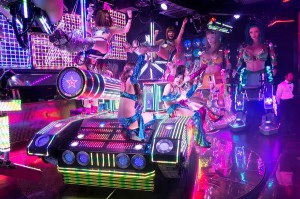 Robot Restaurant
Large robots, motorcycles, and carts carrying scantily-clad women run across a brilliantly bright floor and female dancers in various sexy costumes dance away. That pretty much sums up the theme of the Robot Restaurant in Shinjuku. Despite the fact its name includes the word ???restaurant???, the establishment is primarily a place to watch the live show over drinks and consume an optional bento dinner. Nevertheless, since its opening, it has garnered popularity from customers who describe it with words like ???shockingly good fun???, ???a wide ride??? and ???surreal entertainment???. The waiting room is already another world, surrounded by mirrors and bright colored lights. More than half of the patrons are estimated to be foreign visitors. The show starts with women in costumes starting a glamorous dance set to a taiko (Japanese drum) performance. Next, a performance that includes a marching parade and motorcycles, and a spectacle involving large robots run for about ninety minutes. During the latter half of the show, large robots appear one after another. The charge for the show is 6,000 yen and the bento box is 1,000 yen. http://www.shinjuku-robot.com/
Animal-themed cafes:
It may have started with felines but it certainly did not end there in Tokyo. Cat cafes are indeed very yesterday and here are two of the more unique animal cafes.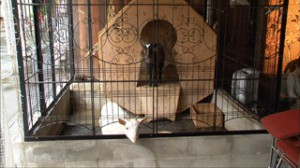 Sakuragaoka Cafe (Goat Cafe)
There are a plethora of animal cafes around town particularly cat cafes, but one of the most eclectic choices is Sakuragaoko Cafe, which houses two resident goats, Sakura and Chocolat. Customers can interact and even sign up to take one of the goats for a walk. Located in Tokyo???s bustling Shibuya district, besides the goats, the cafe offer a decent food and drinks menu. The cafe itself also has a calm, laid back atmosphere, ?encouraging chilling out and long conversations over coffee. The lights are low and the seating is comfortable and in lounge style. The restaurant opens for long hours extending to 4am and offers both lunch and dinner from Monday to Saturday. Wifi is also available. No website but here is the address and phone: ???150-0031 ??延根??醇??莪桁?堺??筝???削??鐚?鐚?鐚? 膀???違????? (just paste this into Google for map, it's a stone's throw from the train station) Tel: 03-5728-3242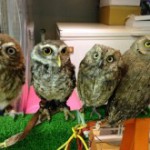 Fukuro No Mise (Owl Cafe)
Gaining popularity since the first owl cafe opened, there are now a few owl cafes around Tokyo. Fukuro No Mise, located in Tsukishima station, was the first to offer this idea back in 2012. Only open for a few hours each day, entry into the establishment goes by a system where several one-hour time slots are offered on the given day. Only a small number of people are allowed to enter at each time slot, and unfortunately reservations in advance are not allowed, which means queuing up before the cafe opens is suggested. At the given time slot, customers have one hour to interact with the owls while consuming the included drink. No food is served at this establishment, the experience is really all about the owls. As the rules are given in Japanese, it is useful to be able to converse in Japanese; although English is available on Fridays. The cafe is closed on Mondays and Tuesdays. http://ameblo.jp/fukurounomise/