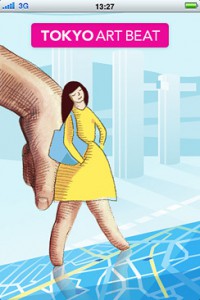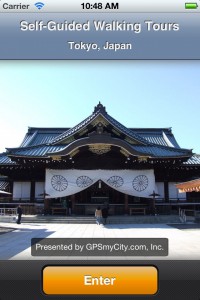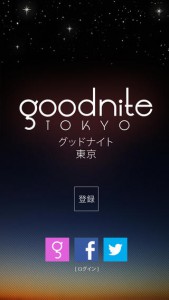 By Richenda Elledge
Communicating and getting around Japan can be a challenge for foreign residents at times. However, many apps are available that make every aspect of living in Japan easier. Not only for language assistance, there are plenty of apps for finding restaurants, art exhibitions, giving guided tours, and hailing a taxi at a touch of a button. Here are some Japan-specific apps that are useful for residents and travelers alike.
Wining and Dining Apps:
Goodnite Tokyo
iPhone and Android
Goodnite is an app that locates Tokyo's club events, bar locations, and karaoke shops based on the user???s GPS location. Users can also share events and locations with Facebook, Twitter, and LINE friends to arrange a fun and memorable night in Tokyo. For more information:?http://goodnite.jp/tokyo/
Quchy
iPhone
Quchy offers a platform to keep track, organize and recommend favorite restaurants and shops, in a flashcard sort of fashion. Users can search nearby pressing the arrow, or search any city in the world to add any business to their collection. Like a deck of cards, restaurant listings are collected in card form with the ability to add personal notes and photos.
Also, users can collect friends' recommended cards. The more recommendations users post, the more the user???s "expertise" increases. The app is compatible with Facebook to easily recommend great places to friends. For more information:?http://www.quchy.com/en/about
TeePee Guide
iPhone
A lifestyle app, the TeePee Guide publishes more than 40,000 spots like restaurants, shops, hot springs, and leisure facilities that have been featured on TV or magazines. Four genres are covered: "Eat," "Stay," "Shop," and "Play," and the app is useful for a variety of situations like dating, traveling, and searching for souvenirs and gifts. No network connection is required for offline use. However, with the phone???s GPS function, users can easily search from their current position. Easily share information using Facebook, Twitter, and e-mail and also to post and view photos and comments. In addition, the app shows driving directions to desired location by connecting with car navigation including Internavi LINC, internavi Pocket, NaviCon, NAVIelite and navico. For more information:? http://teepeeguide.jp/
Sooshi
iPhone
Sooshi is all about one of the most delicious foods, and is not only a sushi restaurant finder but also serves as an informative guide.
The app is put together with ?hand-drawn photorealistic illustrations of food and cooking utensils and it gives a high aesthetic appeal. It informs on: what sushi is, how to prepare sushi and where to find the best sushi places via the phone???s GPS. For more information:?http://getsooshi.com/
Cookpad
iPhone and Android
Cookpad is Japan???s most popular recipe-sharing site with web usage surpassing 40 million active monthly users and mobile app downloads of over 20 million.
While the app is currently only in Japanese, the company has recently launched an English-language website of its popular Japanese counterpart.
For more information:?https://itunes.apple.com/app/kukkupaddo-no.1reshipi-jian/id340368403
For the English website (not app): https://cookpad.com/en/categories/japanese-recipes
Daily Life Helpers (like language aids, information providers):
Pocketbook Appendix
iPhone and Android
Pocketbook Appendix is the English version of ???Techo-no-furoku (???絽潟???????)???. This app is essentially a compilation of reference tables quite commonly found inside diaries and pocketbooks. The free version of the app contains Japan-specific information such as age conversions table (which is useful as it also lists the year in Heisei while listing the specific animal for the specific year), Japan postal charges and public holidays, as well as the time difference of other countries from Japan and also lists the prefectures. There are other more universal, non-Japan specific conversion tables for length, distance, weight and temperature included. For more information:?https://itunes.apple.com/us/app/pocketbook-appendix-free/id417002893?mt=8
https://play.google.com/store/apps/details?id=jp.co.technosquare.android.gappendix&hl=en
What? Nothing about Japanese studying apps or translators! This blog article would never end listing the English-Japanese dictionaries and Japanese language learning apps that are currently available (Google Translate, Iniwa, and ?JEDict to name a few) ?but here is one that is more unique:
Waygo
iPhone and Android
Waygo is a visual-based translator and dictionary for Chinese, Japanese and Korean that works offline and can translate text from photos taken from the camera photo. There is also a live mode where the user points the phone camera at the text and it will translate it. For more information:?http://www.waygoapp.com/
Safety Tips
iPhone and Android
Developed in collaboration with the Japan National Tourism Organisation, this app gives users earthquake and tsunami warnings issued in Japan. It provides various functions useful for both foreign tourists and residents in Japan. After registering desired location (a maximum of five is allowed), notifications regarding Earthquake Early Warnings will be sent to the user for earthquakes with a seismic intensity of 4 or greater.
The app also provides details regarding evacuation procedures, communication cards written in four languages (Japanese, English, Korean and Chinese), as well as links to other sources of information that may be necessary during disaster situations (such as contact information of embassies and nearest tourist centers). There are also explanations regarding the intensity of an earthquake (according to the seismic intensity scale). For more information:?http://www.jnto.go.jp/eng/arrange/essential/emergency/safety_tips.html
NHK World TV and NHK Radio
iPhone and Android
NHK operates international television, radio and Internet services. Together, they are known as NHK WORLD. NHK WORLD provides both domestic and international news to the world and to serve as a vital information lifeline in the event of major accidents and natural disasters. It also broadcasts many aspects of Japanese culture and lifestyles, recent developments in society and politics, the latest scientific and industrial trends, and Japan's role and opinions regarding important global issues. The aim is to foster mutual understanding between Japan and other countries and promote friendship and cultural exchange. The broadcaster provides two apps, one for radio and another for TV. NHK World TV enables users to watch its channel on the iPhone or iPad, while the radio streams live radio and audio clips. For more information: ?http://www3.nhk.or.jp/nhkworld/app/info/index_en.html
Travel & Exploration Apps:
Tokyo Art Beat
iPhone and Android
TokyoArtBeat.com is a highly-reputed art and design events calendar. It is a free bilingual website listing hundreds of events each month. The team launched an official Tokyo Art Beat app where users can find events near their location and get directions and details for those events. It also lists a popular list to show the hottest events in Tokyo. It is compatible with Twitter, Facebook, email and SMS to bookmark and share the events. Users are able to browse through hundreds of exhibitions happening in Tokyo, sorted by media, area, time period and popularity. For more information: ?http://www.tokyoartbeat.com/tablog/entries.en/2010/02/introducing-the-tokyo-art-beat-official-iphone-and-ipod-touch-app.html
Tokyo Map and Walks
iPhone and Android
Both a lite (free) and full version are available for this app. The lite version of Tokyo Map and Walks offers a detailed and fully functional city map to assist the exploration of the city and locate sights. A useful app for travellers and residents new to Tokyo, ?users can search for street names and businesses and bookmark locations. Walking tours included in this app are: the Tokyo Imperial Palace, Asakusa, Ueno Park, Yasukuni Shrine, Kitanomaru Park, Shibuya, Ginza and Takanawa.
While the Lite version does not provide navigation assistance during the tour (this function is disabled), users are still able to use the city map or learn about the tour sights visited by the walking tours from the sight descriptions and photos. The paid version includes detailed tour route maps and turn-by-turn directions to guide you from one sight to the next. For more information: ?http://www.gpsmycity.com/apps/tokyo-walking-tours-20.html
Tokyo Sento Map
iPhone
For travellers and residents who are interested in experiencing public baths Japan style, this app locates the nearest communal bath house in Tokyo by location and allows users to mark those already visited. While it is in Japanese, it is quite easy to use the search function for the locations and get addresses and directions. For more information:
https://itunes.apple.com/us/app/tokyo-sento-map/id844039424?mt=8
Transportation Apps:
Japan Taxi
iPhone and Android
Japan Taxi App enables users to order a taxi with direct control and GPS function of the smartphone. It covers 47 prefectures, 22,007 cars from 123 taxi companies. Other functions include: fare calculation as per the local taxi company's fare system, corresponding to the location, the ability to save favorite locations, and storage of past history information. For more information: ?http://japantaxi.jp/
Uber
iPhone, Android and Windows
Global private driver service provider, Uber, provide private taxis to customers in over 50 countries. Tokyo is one of the locations under its coverage. The app allows users to request a ride and get picked up within minutes, and the on-demand service means no reservations required and no waiting in taxi lines. The app also enables users to compare rates for different vehicles and get fare quotes in the app. In addition, customers can use PayPal or add a credit card to their secure account, thus enabling a cashless transaction. For more information:?https://www.uber.com/cities/tokyo

Tokyo Rail Map
iPhone
Tokyo Rail Map showcases a comprehensive map of the metropolitan Tokyo rail & subway system.
The app displays a clear and concise route map, and also offers the ability to do route planning and specific station lookup, as well as an overview of the train lines and transit options.
It also offers GPS support to find the user's closest station. For more information:
Trains.jp
iPhone
Further to the previous listing, trains.jp app covers a wider scope. The app covers over 1,300 stations and 110 lines in Tokyo, Kanagawa, Chiba and Saitama. It displays train routes and access information including travel time, distance, and price. This version has all the route information included, so no network connection is required – perfect for visitors from overseas or iPod touch users. For more information:?https://itunes.apple.com/en/app/trains.jp/id344946340?mt=8
Tokyo Subway Navigation for Tourists
iPhone and Android
Despite the app???s actual name, it would probably be useful for anyone that need directions on the subway in Tokyo. Provided by Tokyo Metro, this app enable users to search transfer information for the Tokyo Subway network (both Tokyo Metro and Toei Subway). This app is available in English, Chinese (Simplified and Traditional), Korean and Japanese, and informs which stations have free wifi. For more information: ?http://www.tokyometro.jp/en/tips/connectivity/smartphone/index.html