By Richenda Elledge
One of Tokyo???s best times of the year and event has arrived. Cherry blossom season with all its glorious hanami parties and beautiful scenery is a time not to be missed. The Japan Meteorological Agency has officially declared that cherry trees are blossoming and the first cherry blossoms were even spotted as early as Monday at Yasukuni Shrine.
That said, they are expected to come into full bloom throughout Tokyo from the weekend, and the full-blooming day is expected to be on April 1st. Here are some of the best locations for viewing sakura in Tokyo.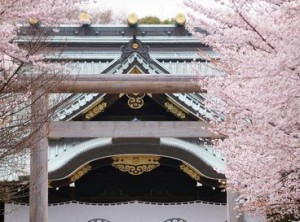 Yasukuni Shrine
Yasukuni Shrine is a Shinto Shrine in Chiyoda. This is one of the most famous locations and hordes of locals and travelers head here for cherry blossom viewing.
Much like the groundhog in the US, it???s also the go-to location to gauge the cherry blossom blossoming schedule.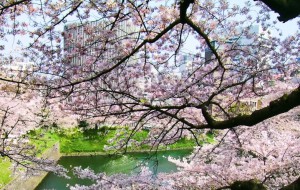 Imperial Palace Grounds
The Palace Gardens are especially beautiful during the cherry blossom season.
The Japanese Imperial Palace Gardens are open to the public daily except Mondays and Fridays. The entrance is free.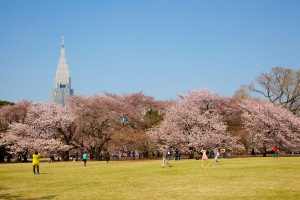 Shinjuku Gyoen
Shinjuku Gyoen has over 20,000 trees, including 1,500 sakura trees.
What makes this location so popular is its variety of cherry tree species that bloom from March to the end of April.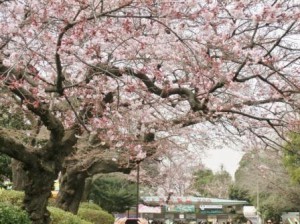 Ueno Park
Ueno Park has around 1,000 sakura trees, most of which line the main path through the park. The area also offers plenty of space for hanami parties.
Of course, another good thing about Ueno is that there are other attractions in sight; such as the wide variety of museums and the Ueno Zoo. The grounds are also a delight to meander through.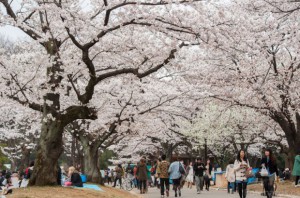 Yoyogi Park
Although the number of cherry trees is small, the family-friendly setting of this park makes it a popular destination. Thus Yoyogi Park remains one of Tokyo???s most popular locations for families and friends to congregate for hanami. In addition, it's in a very central part of Tokyo, a mere stone's throw from Harajuku and Omotesando.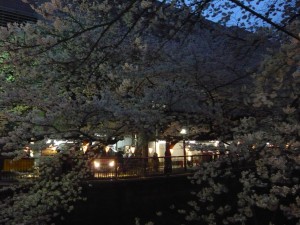 Nakameguro River
This author???s favorite spot, this location is a little different, in that the cherry trees dot the Meguro River and really don???t offer spaces for hanami parties per se. However, the restaurants and cafes that line the river all come out with food and drink stands in a festival setting. The festivities start from early in the day and end late into the night.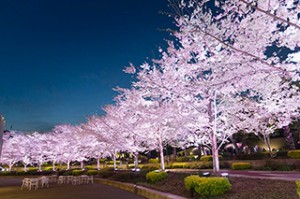 Tokyo Midtown & Roppongi Hills
For an urban Cherry Blossom viewing, Roppongi actually offers a great place for this enjoyment. Tokyo Midtown is a convenient spot. Its gardens feature eight different kinds of cherry trees and 150 in total, many of which are lit up at night. And of course, the complex has come up with promotions and decorations to match the occasion.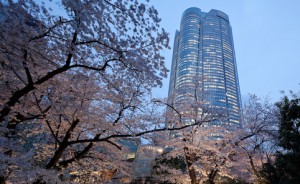 The annual cherry blossom light-up at Roppongi Hills lights up the sakura trees in the Mohri Garden and along the Sakura-zaka slope. There are also festivities to mark the occasion with its Spring Festival that will showcase light performances and Springtime menu in a variety of restaurants located inside the complex. Some craft making sessions are also on offer.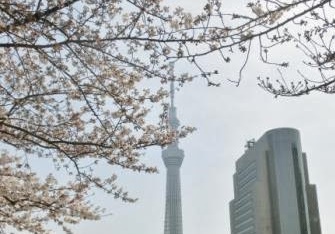 Sumida River
About 1,000 trees along the Sumida River are lit up from 5 to 9:30 pm during the bloom period. Furthermore, the close proximity of Tokyo Sky Tree means cherry blossoms can be viewed along with one of Tokyo's major landmarks. This has in turn ?increased the popularity of this location.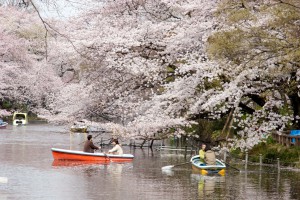 Inokashira Park
Inokashira Koen straddles between Musashino and Mitaka in western Tokyo. Many cherry trees are planted around the pond, which makes this a charming spot to enjoy the blossoms while riding a boat out in the pond (available for rent). The park also has a petting zoo and a small aquarium.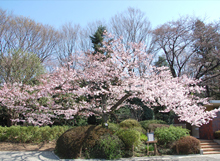 Jindai Botanical Garden Chofu
Out in Chofu, Jindai Botanical Garden has over 60 different kinds of cherry trees, all of which burst into bloom around the end of March. The park offers free guided tours and as a botanical garden, the green surroundings, sculptured grounds and other plants compliment the cherry blossoms. To mark the occasion, special concerts will be held on March 28 and April 5.