Property for Sale in Hatagaya, Shibuya.
Support for Real Estate Purchases by Foreigners in Tokyo.
Warm and bright apartment to discover in Hatagaya.
We would like to present to you a fully renovated corner room. It is a 3-bedroom with plenty of storage space and enough room for you and your family to live comfortably.
A large living/dining/kitchen area of 22 square meters is at your disposal. The room is south-facing and receives a lot of light. The floor is also covered with high quality carpeting to prevent slipping, so your children can play safely. It also provides additional insulation to protect your neighbors from the common noises of family life and protect your privacy.
| | |
| --- | --- |
| Price | JPY 99,800,000 |
| Floor | 3rd Floor / 7 Floors |
| Unit Size | 90.89 sq. m. |
| Balcony Size | 11.20 sq. m. |
| Layout | 3-Bedroom (3LDK) |
| Land | Freehold |
| Address | 3-33-1 Hatagaya, Shibuya-ku, Tokyo-to |
| Construction | April 1993 |
| Structure | Reinforced Concrete |
| Total Units | 63 Units |
| Management | JPY 30,400/month |
| Repair | JPY 10,730/month |
| Nearest Station(s) | Hatagaya (9 min), Sasazuka (10 min) |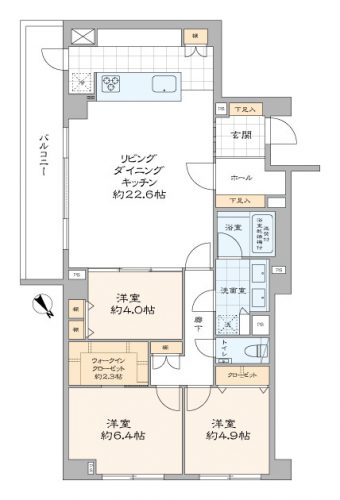 The kitchen has a large sink and work surface behind it, allowing several people to cook together. It has a three-burner stove with a grill and plenty of cabinets, making it a great place to store large frying pans and other items.
One of the three bedrooms is connected to the living room by a sleek, transparent door that lets in light. From there, the view of the living room and dining room through the door is also great, and makes this room the perfect place to set up a workspace.
From the window, you can overlook nearby trees that allow light to pass through their branches while protecting your privacy. You can set up a chair or table and enjoy the sun on the large balcony.
A charming property in which it will be possible for you to live a quiet and happy family life, in a total space of 90,89 sq. m, only 9 minutes from the nearest train station.
Please tell us what you think, and don't forget to check out our Facebook and Instagram to have a look at our other properties.