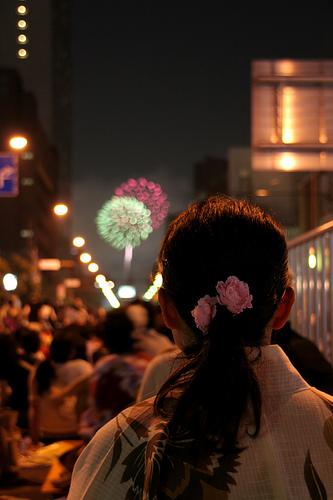 Summer is the season of firework displays in Japan.
There are many fireworks in July and August.
Below is the list of some of the most popular fireworks in Tokyo.
Sumida-gawa Fireworks
Area: Sumida-gawa River, Taito-ku / Sumida-ku
Date: Jul. 31
Time: 19:05-
About 20,000 rockets
Edo-gawa Fireworks
Area: Edo-gawa River, Edogawa-ku
Date: Aug. 7
Time: 19:15-
About 14,000 rockets
Jingu-Gaien Fireworks
Area: Meiji-Jingu, Minato-ku
Date: Aug. 19
Time: 19:30-
About 12,000 rockets
Tokyo Bay Fireworks
Area: Harumi, Chuo-ku
Date: Aug. 14
Time: 19:00-
About 12,000 rockets
Adachi Fireworks
Area: Ara-kawa River, Adachi-ku
Date: Jul. 29
Time: 19:30-
About 12,000 rockets
If you are going to the fireworks, why not try wearing 'Yukata'(羌頑。)?
Yukata is the casual Kimono (Japanese traditionlal clothing),? worn only in mid summer.
Formal Kimono is made of silk and has lining, but Yukata is made of cotton, and does not have lining.
People wearing Yukata are often seen at fireworks and summer festivals.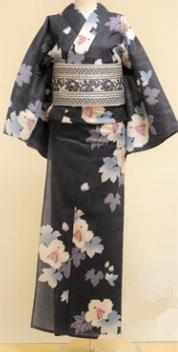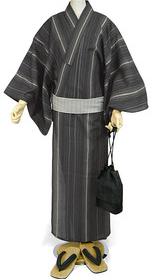 Yukata for women(left) and men(right).
You can buy Yukata at major sightseeing spots, like Asakusa.
Clerks may be able to teach you how to wear it, or if you are not comfortable with wearing it yourself, most beauty parlors are capable of dressing you.? Be sure to make reservations, though!
By the way, the Kanji 羌? means ???bathing???, and 茵? means ???cloth???.
Literally, Yukata means bathing suits.
In the Edo period, Yukata was worn after bathing, like bath robes.
Even today, Yukata is used as bath robes in some Onsen(hot spring) and Ryokan(Japanese hotels).
You may have many chances to see or wear Yukata, when traveling around Japan.
—
Higherground Co.,Ltd.
2-8-3 Minami-Aoyama, Minato-ku, Tokyo, Japan
TEL:03-6459-2230
HP:http://www.higherground.co.jp/
TOP PAGE:?https://livingtokyo.net/