When you visit Shibuya, you will probably be overwhelmed by the congestion.? Among all the crowded places, the most crowded might be the area around the statue of Hachiko.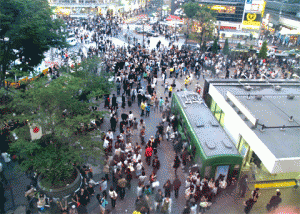 The statue is in memory of Hachiko, a dog, who was very faithful to his master, and followed him to the station every day when he took the train to work.
One day his master didn't return home, and Hachiko waited at the station for 9 years for his master's return.? He died there waiting for him and a memorial statue was erected in 1934. ?The current statue dates back to 1948.
Ever since, the statue?became?the most famous meeting point in Shibuya, as you?will?see hundreds of people waiting for their dates, families, friends or others around the area.
Each year on April 8, Hachiko's devotion is honored with a ceremony of remembrance at Tokyo's Shibuya station.? Hundreds of dog lovers often turn out to honor his memory and loyalty.
The episode of Hachiko was also filmed in the US, starring Richard Gere.
—
Higherground Co.,Ltd.
2-8-3 Minami-Aoyama, Minato-ku, Tokyo, Japan
TEL:03-6459-2230
HP:http://www.higherground.co.jp/
TOP PAGE:?https://livingtokyo.net/