Another regular feature of Ohmisoka is watching Kohaku Uta Gassen (膣???醇????????), a TV program by NHK, starting at 19:30.? Though this custom is getting weaker, especially among younger people, the program is still one of the most popular in Japan.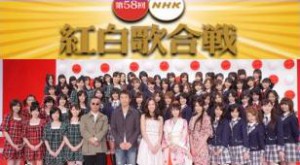 The title of the program means 'song festival between Red team and White team'.? Popular singers are split into two teams by gender, women in the red team and men in the white, and sing by turn.? After the final singer finished at around 23:30, the audience and a panel of judges cast their votes to decide which team sang better.? The winning team gets a trophy and the winners' flag.? The program ends at about 23:45.? Programming then switches to coverage of midnight celebrations around the country.
Usually, people either watch these TV programs at home, or visit a temple to ring the bells of New Year's Eve.
This bell is nothing like the small handbells used in the choirs.? It is the large bell hang up in the site, which you might have seen if you've visited a temple.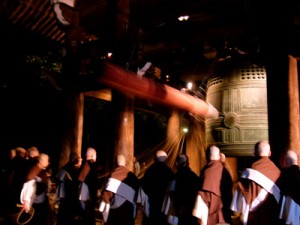 The bell of New Year's Eve is called Joya-no-kane (??ゅ???????).? New Year's Eve is the night of removing from the present year, so it is called Jo (???, remove) Ya (紊?, night)-no-Kane (???, bell).
The bell will be rang for 108 times.? 107 in the going year, and the last one in the coming year.? In Buddhism, 108 is the number of earthly desires.? Ringing the bell has the meaning of relieving people from suffering these desires.
However, listening to Joya-no-kane isn't the only way to spend the last hours of the passing year nowadays.
Count down events are held in various places in Tokyo, such as Roppongi Hills, and Sunshine City.
—
Higherground Co.,Ltd.
2-8-3 Minami-Aoyama, Minato-ku, Tokyo, Japan
TEL:03-6459-2230
HP:http://www.higherground.co.jp/
TOP PAGE:?https://livingtokyo.net/