On New Year's Day, many people go to see the sunrise.
The sunrise on New Year's Day is called Hatsu-hinode (?????ャ????), literally 'first sunrise'.
In Japan, Hatsu-hinode is thought to be very auspicious, as it is the first dawn in the year.
This custom is actually not very old.? It is said that seeing Hatsu-hinode was spread in the Meiji period (1868-1912), and the origin?was the New Year's ceremony by the Emperor.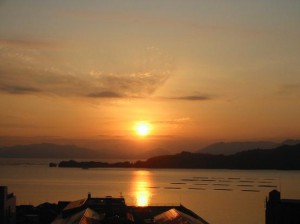 There are many spots famous around Japan, for seeing the beautiful Hatsu-hinode.? Some people climb Mt. Fuji and see Hatsu-hinode from the mountaintop.
There are Hatsu-hinode seeing events in Tokyo, and the observation decks of tall buildings such as Roppongi Hills, Sunshine City, and Tokyo Tower, are open early in the morning for this.
—
Higherground Co.,Ltd.
2-8-3 Minami-Aoyama, Minato-ku, Tokyo, Japan
TEL:03-6459-2230
HP:http://www.higherground.co.jp/
TOP PAGE:?https://livingtokyo.net/