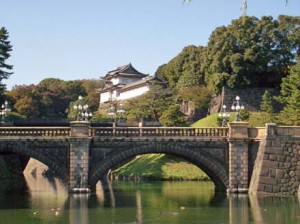 ???The Imperial Palace???
The Imperial Palace (???絮?)?is located in the center of Tokyo(Kokyo Gaien, Chiyoda-ku).
It was originally the inner courtyard of Edo Castle (羆???後??), is now the official residence of the emperor and empress of Japan.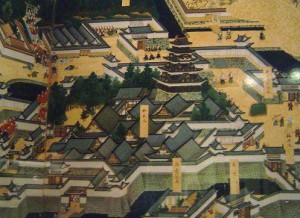 Picture of Edo Castle.
Once surrounded by 5 great moats, with many gated entrances, the palace grounds now have only portions of one moat.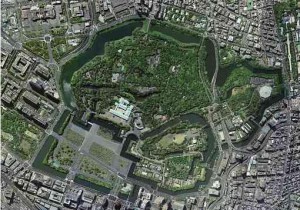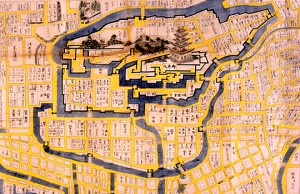 And a guard post on the eastern corner of the grounds that gives some impression of the size and glory of the original castle.
The present imperial residence is a combination of Japanese and Western architecture that reflects the cultural heritage of Japan and the role of the imperial family. On the emperor's birthday and on January 2, selected audience of the public are permitted to enter the palace grounds to celebrate and greet the emperor. The still heavily wooded grounds are especially visible from high-rise buildings in the city. Dispite its location in the heart of Tokyo, broad green space still prevails.
By the way, the Imperial Palace is popular with runners. It is about 5km around, you can see many people running around it.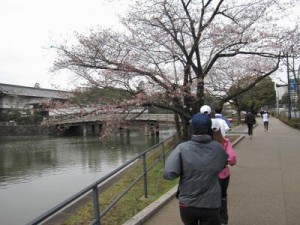 In japan, we have two famous gold medalists of marathon in Olympics, so that running becomes more popular in the country.
Why don't you try running around the Tokyo's oasis?
???Many historical sights.???
There are many historical sights, such as the remains and gardens of Edo Castle and exhibitions of art works handed down in the Imperial Household.There are some areas open to general admission and need to book in advance.
The area can be divided into 3 zones below.
???Kokyo-mae Hiroba
It is oasis area surrounded by moat. Open 9am-4:30pm/close Mon & Fri.
There are;
1)Bronz statue of Masashige Kusunoki(罐????????, Bronz statue of this hero from the Nambokucho (?????????) period.)
2)Sakurada-mon(罅???育??, Famous as the place of certain historical event.)
3)Wadakura Fountain Park(?????医????贋梓?????, There is the symbolic water fountain.)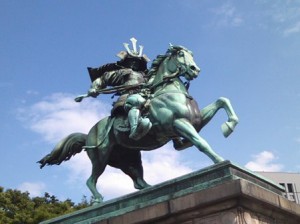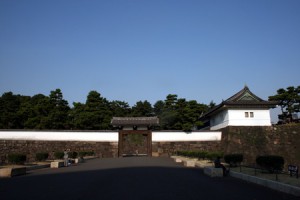 ???Kokyo-Higashi Gyoen
It is history area where the look of Edo Castle is left.
There are;
1)Edojo Tensyukaku-ato(羆???後??紊?????h掘, Only stonewall foundation remains.)
2)Sannomaru shozokan(筝????幻絨???級え, The artworks housed in the Imperial Palace are on display.)
3)Hyakunin Bansho(??鞘査?????, It is the Edo Castle guardhouse.)
???Kitanomaru Park
Where cultural facilities and rest spots are scattered.
There are;
1)Nippon Budokan(??ユ??????蕕?, This martial arts sunctuary is also famed as a venue for concerts. )
2)Chidorigahuchi Boat Arena(???薐ャ?倶卦?????若?????, Ride on a boat in the Imperial Palace moat.)
3)The National Museum of Modern Art,Tokyo
(??延根??順??菴?篁g??茵?蕕?, This museum houses modern and contemporary Japanese artworks.)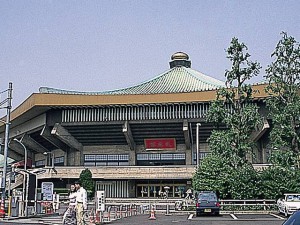 ???The Imperial Household Agency Website here???
http://www.kunaicho.go.jp/eindex.html
—
Higherground Co.,Ltd.
2-8-3 Minami-Aoyama, Minato-ku, Tokyo, Japan
TEL:03-6459-2230
HP:http://www.higherground.co.jp/
TOP PAGE:?https://livingtokyo.net/